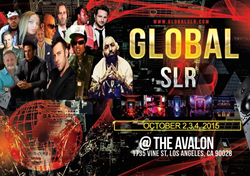 "Men have become so feminized, they confuse and irritate women, which in the long run can potentially be a true threat to human reproduction and evolution!"
Hollywood California (PRWEB) September 28, 2015
Hollywood, October 2-4 2015: Apprentice Seducers and Gurus from All Over The US and World Will Be Attending This New "Multi-Media Transformational Event for Men" To Go Beyond Just Wanting To "Get Laid," But To Simply Be The Best Men They Can Be!
The Global Seduction, Lifestyle, and Relationships Convention is set for October 2-3-4, 2015 at The Bardot and The Avalon, located at 1737 Vine Street including a "Pink Carpet Event" On Saturday evening.
Last year, Pickup Artist Julian Blanc and his disrespectful statements toward women causing him trouble getting a visa into the UK, as stated on UK Sky News http://news.sky.com/story/1376329/pick-up-artist-julien-blanc-to-be-denied-visa, had the world assume that Pickup was just about men being even bigger jerks than they already were! Yet those who really believe in the craft and art of social and sexual success for the greater good of all, and come from the heart, are gathering in force in the most Glamorous yet Spiritually inclined manner in Hollywood to take a stand, do it right, and be of service to not only men, but women whom eventually won't have to deal with men's average neediness and creepiness whose choice and skills are limited.
"Men have become so feminized, they confuse and irritate women, which in the long run can potentially be a true threat to human reproduction and evolution!" - Vince Kelvin, co-founder of event
Featuring 12 of the World's best dating, seduction, and relationships experts, the convention includes workshops, in-field training, healing sessions with renowned Shaman, entertainment/musical performances, party bus, lifestyle exhibits, and so much more. The event includes the highly anticipated participation of Star of Showtime's "Gigolo," Nick Hawk. A former Air Force marksman and crew chief, accomplished martial arts expert, and 2014 Brazilian Jiu Jitsu World Champion, Nick is best known as the star of "Gigolos," Showtime's hit reality show about the lives of five male escorts in Las Vegas (recently renewed for a sixth season.)The series follows the men, all employees of the agency Cowboys4Angels, through their daily lives and interactions with each other, and more provocatively, with their female clients. Nick will be awarded "Ultimate Alpha Male Role Model on TV."
Event organizers, Vince Kelvin, and Arash Dibazar, state that the whole world has it backwards. The ones to fear are the men with no skills. The quest is much bigger, and many of the speakers have solid background as healers and therapists who said goodbye to the monetary appeal of using their transformational skills to coach at a corporate level to put on the more rock n' roll outfit and persona to address this core issue of men and women relating and mating in this day and age of digital communication and the fading of real people's skills.
The Pink-haired renegade Hollywood guru, Vince Kelvin, who founded the 1st pickup artist Summit in 2007 is back at it with a sense of mission that goes way beyond Seduction and Getting men laid, joining forces with Arash Dibazar, owner of IMC Nation and Seductive Instinct based out of San Jose CA.
Vince Kelvin's prior events have been featured on/in KTLA Chanel 5, BBC, UK Chanel 4, Sky TV, Canadian Broadcast, Cosmopolitan Magazine, The Washington Post, The Sun. Furthermore, Vince will be featured in a scheduled episode of Lisa Ling's CNN season 2 of "This Is Life" to be aired November 11th.
"Everything in nature has the male and the female energy... It is called the law of gender in Alchemy... In the modern world men are more and more feminized and women are more and more becoming masculine... This is against nature and the rhythm of life... In this event, both male and females will regain their balance and become attuned to nature once again …." - Arash Dibazar, co-founder of event
A complete schedule of event can be found at http://www.GlobalSLR.com
KTLA5: https://www.youtube.com/watch?v=sfEsuKnqjco
The Moaning of Life: https://www.youtube.com/watch?v=t9gEssakXpw
SF Weekly: http://www.sfweekly.com/sanfrancisco/one-night-standoff-a-pickup-artist-appeals-to-the-shy-and-tech-oriented-with-his-algorithms-for-getting-laid/Content?oid=2949448