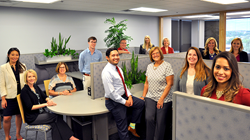 Our goal in this redesign is to increase understanding through easy access to our services and expertise.
Omaha, NE (PRWEB) September 23, 2015
SilverStone Group's Human Capital Team and their dedication to their clients haven't changed, but their portion of the Firm's website has – for the better! The focus of this restructuring was to create a more engaging site that provides easier navigation and improved readability for the end user. Services are better categorized, teams are more identifiable and the content is now graphic enhanced, including informational videos by our thought leaders in Human Capital.
Virginia Collins, Managing Principal for Human Capital, spearheaded the initiative, stating, "Our goal in this redesign is to increase understanding through easy access to our services and expertise. Even though we have been providing services to the Omaha community and the region for over 20 years, there are still companies who are not aware of the organizational impact we can help create through our partnership with clients. We are anticipating this to be another step that will help get the word out."
Clients and prospects can explore Human Capital's wisdom through various subcategories beneath simplified classifications of Growth and Development and Organizational Structure. Notably, the site also focuses heavily on a new online suite of products, OrganizationForward, designed to support a company's efforts in hiring, strategic planning, employee engagement and talent review and development.
Rounding out the restructure is streamlined access to valuable resources and tools. Blog posts, SilverLink articles and educational opportunities, such as seminars and workshops held by our very own Human Capital experts, provide a new level of user-friendly interactivity to the site.
SilverStone Group is an employee-owned Firm with 70 years of dedicated service. The company's more than 200 highly qualified Associates provide human capital consulting, property and casualty coverage, risk management, employee benefits, business insurance and financial planning services to employers and individuals.
Headquartered in Omaha, Nebraska, SilverStone Group has additional offices in Council Bluffs, Iowa; Sioux Falls, South Dakota; Portland, Oregon; and Scottsdale, Arizona.
For more information on SilverStone Group or to schedule an interview, please contact the Marketing Department at publicrelations(at)ssgi(dot)com.