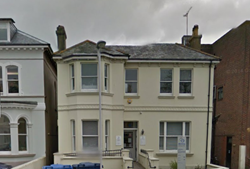 10 year anniversary
Worthing, West Sussex (PRWEB UK) 25 September 2015
For the last decade, the practice has prided itself on providing quality general dentistry to the residents of Worthing and surrounding areas at affordable prices. The clinic currently has five full-time dentists who are highly experienced and have been a part of the Worthing Dental Centre family for years.
The planned renovation of the clinic is set to improve the facilities further, providing an even more comfortable experience for clients and their families.
Founder and Clinical Director, Dr. Bruno Silva, said he appreciated the support of the local residents and the thriving business community in Worthing.
"It's been our pleasure to serve our dedicated clients from the local and surrounding area for the past decade. Celebrating ten years in the Worthing community is a real milestone, and the next ten will be even better as we improve our clinic in order to provide an even better experience for our patients," Dr. Silva said. The renovations plan to improve the patient waiting and reception areas. A central sterilisation area will be formed as well to further improve the level of care the clinic provides.
The Worthing Dental Centre is part of the Brighton Implant Clinic group which has branches in Hove, Worthing, Hailsham and Brighton. The Worthing Dental Centre provides local residents with both NHS and private dental treatment.
The Brighton Implant Clinic recently received BTI Human Technology certification with a seal of Quality Assurance, and was granted the status of a BTI Recognised Centre in recognition of training, use of medical devices and application of technology in the field of implantology.
The clinic was also awarded DAMAS accreditation. DAMAS is an acronym for Dental Appliance Manufacturers Audit System; a quality management system designed specifically for the manufacturers of custom made dental appliances.

For further information or images, contact:
Dr. Bruno Silva
Clinical Director
Brighton Implant Clinic & Advanced Dental Surgery
Tel: 0844 815 1414
http://www.brightonimplantclinic.co.uk
About Brighton Implant Clinic & Advanced Dental Surgery
Brighton Implant Clinic & Advanced Dental Surgery was established in 2009 in Hove, East Sussex and now has branches in Brighton and Hailsham.
These welcoming clinics feature state-of-the-art facilities, the latest in dental technologies and speedy treatment plans at affordable prices.
An experienced team of experienced, friendly and professional dental nurses, technicians and administrative staff await you at Brighton Implant Clinic & Advanced Dental Surgery.