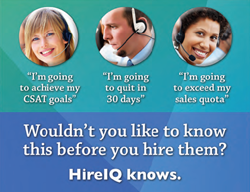 Hiring customer service professionals who possess the right skills has a real and significant economic benefit for the hiring company.
Atlanta, GA (PRWEB) September 22, 2015
HireIQ Solutions, the innovative leader in predictive analytics and virtual talent acquisition solutions for customer-facing organizations, today announced that Kevin Hegebarth, the company's vice president of marketing, has been invited to speak at the upcoming PACE TCPA Washington Summit. Mr. Hegebarth will participate on the "Labor Pains: Issues Impacting Customer Experience Companies and Communities" panel to be held on Tuesday, September 29, 2015 at 9:00 a.m.
Panelists will examine the economic and social costs of unemployment, including labor costs, costs to government, and costs to society in general. The session will seek to answer several key questions including, Are government economic incentive programs providing enough high-quality candidates to meet and exceed a company's Key Performance Indicators, improve 90-day survival, and overall employee retention? What is the true cost of attrition to customer experience organizations?
He will be joined by Matt Zemon, Chairman of jobs4america; James Durian, Director of Community Ventures for Michigan Economic Development; and Jeff Sheehan, Senior Vice President of Site Selection Group.
"Labor constitutes the majority of a customer service company's operating budget. There is a real – and often significant – economic benefit to making the right hiring decisions," remarked Kevin Hegebarth, vice president of Marketing for HireIQ Solutions. "Selecting applicants who are more likely to achieve the hiring company's objectives impacts bottom-line financial performance, and can also result in increased customer retention, elevated customer satisfaction, and improved employee engagement."
The PACE TCPA Washington Summit will be held at the W Hotel in Washington, DC, September 27 – 29, 2015. For more information about the Summit or to register for the event, please visit http://www.paceassociation.com/p/cm/ld/&fid=598.
For a complete listing of HireIQ news, please visit http://www.hireiqinc.com/resources/press.
About HireIQ Solutions, Inc.
HireIQ revolutionizes talent acquisition for front-line customer service positions such as those in contact centers, retail stores, branch banking, quick-service restaurants, and hospitality by automating the early-stage screening process, automatically assessing for critical communication skills, and using outcomes-based data to facilitate continuous performance validation.
HireIQ's solutions enable companies to improve their hiring decisions, reduce time-to-fill, reduce recruiting costs, and increase talent performance and retention through its on-line virtual interviewing software, novel predictive analytics solutions, and structured feedback between recruiting and its stakeholders. HireIQ is a privately held company based in Atlanta, GA. For further information, please visit http://www.hireiqinc.com. Follow us on Twitter @HireIQInc.
About PACE
The Professional Association for Customer Engagement (PACE) is the only non-profit trade organization dedicated exclusively to the advancement of companies that use a multi-channel approach to engaging their customers. These channels not only include primary contact centers, but digital channels like mobile, social media and the web. A core mission of PACE is dedicated to proactively balancing industry best practices with current regulatory standards around using these channels when contacting customers. Our membership is made up of Fortune 500 companies, contact centers and technology suppliers that enable companies to contact their customers based on their preferred method. For more information, please visit http://www.paceassociation.com
© 2015 HireIQ Solutions, Inc. All rights reserved. All materials provided, regardless of form, are the exclusive property of HireIQ. HireIQ's products may be covered by one or more United States, European or other international patents or applications. All trademarks are the property of their respective owners.
# # #