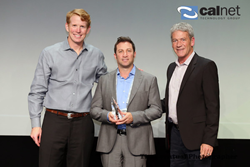 The expertise and depth of Cal Net's suite of security services sets us apart from our competitors. Partnering with Dell Security is a key element of our company's end-to-end security solution
Los Angeles, CA (PRWEB) September 22, 2015
Cal Net Technology Group, a leading provider of IT infrastructure consulting, support, and technology services, has been recognized as Dell Security Partner of the year for 2015.
"The security landscape continues to change dramatically, creating new challenges every day. Our partners offer tremendous value to their clients by serving as trusted advisors who help them navigate these complexities," said Marvin Blough, Executive Director, Dell Software Channels & Alliance. "Congratulations to our Partner of the Year Award winners. We are proud to recognize those who continue to focus on delivering customer value at a premier level with Dell Security solutions."
Cal Net Technology Group was presented the award September 1st, 2015 at the Dell Security Peak Performance Conference held at the Aria Hotel in Las Vegas, Nevada with more than 650 channel partners from North America and Latin America in attendance.
"We are honored to win this award" stated Brian Kreiner, Cal Net's Chief Executive Officer. "The expertise and depth of Cal Net's suite of security services sets us apart from our competitors. Partnering with Dell Security is a key element of our company's end-to-end security solution and plays an important role in us being able to offer best in class security services to our customers."
This award compliments Cal Net's leadership in the Managed Services market for the Southwest US Region. Cal Net has also been recognized as Southwest Region Partner of the Year by Microsoft three years in a row, including 2015, IT Service Partner of the Year by the Los Angeles Business Journal, has been named a top 50 Managed Services Provider in North America by the MSPMentor 501 List, is a CRN MSP Elite 150 list member, and is a 7 time Inc. 5000 honoree.
About Cal Net Technology Group
Cal Net Technology Group is the premier provider of outsourced IT services, IT support, cloud, and Unified Communications in the Southern California market, servicing organizations with 10-2000 employees. Through its implementation and support services, Cal Net excels in tackling the complexities of partially and fully outsourced IT and voice systems implementation and support services with both onsite and remote delivery models.
For additional information, please visit CalNetTech.com or follow the company on their Facebook, Google+, and Twitter pages.
Businesses interested in IT support or services can contact Cal Net Technology Group by phone at (866) 999-2638 or visit http://www.CalNetTech.com for more information.
Request For Information: info(at)calnettech(dot)com
Media Contact: marketing(at)calnettech(dot)com