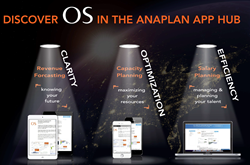 We are very excited for this expansion. The introduction of these new applications is enabling OpenSymmetry to expand our footprint.
Austin, TX (PRWEB) September 22, 2015
OpenSymmetry, a global consulting firm that delivers Finance, HR, and Sales Solutions to drive accelerated business performance, today announced the expansion of the OpenSymmetry's portfolio into product development with the introduction of five applications into Anaplan's App Hub, with a product roadmap expanding across Sales, HR, and Finance. These applications enable companies become both smarter and healthier, as well as helps them connect business lines as it relates to sales and services forecasting, capacity planning, and salary planning.
"We are very excited for this expansion." said Anthony Hutchins, Senior Vice President, Product Development. "The introduction of these new applications is enabling OpenSymmetry to expand our footprint. As both developers and users of the applications, we not only have the ability to identify barriers early on and make adjustments to our own numbers, we are better able to serve customers, providing best practices to ensure the products are being used to their fullest capacity."
The goal of the forecasting and capacity planning applications is to help Professional Service Organizations move to a predictable revenue model. The features include the ability to collect forecast and capacity requirements for organizations to get a holistic view, in real-time, view forecasted vs. actual targets and properly allocate and optimize resources based on forecasts and budgets, respectively. Salary Planning has HR professionals in mind. This tool provides a foundation of salary analyses to support reward planning initiatives. For organizations that are on the FinancialForce platform, the Service Revenue Forecasting and Resource Capacity Planning provides an easy way to view financial forecasts vs. actuals and resources against revenue expectations set forth by both delivery and sales. With planning season in high gear, it is imperative for organizations to move away from a siloed mentality and work together in order to reach success. By being able to connect the dots between Sales, Finance, and HR, customers have the opportunity to go close the gaps, finish the year out strong, and have a clearer line of sight into the future.
"At OpenSymmetry, we want to make your life easier by simply removing the pain. By aligning your CRM, your PSA, and your Financials, along with scenario modeling, you are setting your organization up to succeed. Success is making technology work for you. Picture that," explains Laura Roach, SVP Marketing and Customer Success.
To get a full description of the features and functions of the applications, view them directly on the App Hub. Make sure to keep an eye out for new applications. There are currently five more in development and they will be available by the end of the year.
OpenSymmetry is also a gold sponsor at Anaplan Hub in London, October 8th, 2015. Make sure to stop by and learn how you can rapidly realize results with Anaplan and the Anaplan Hub Apps.
About OpenSymmetry
OpenSymmetry is a trusted leader and global advisor that delivers Sales, HR and Finance solutions to drive accelerated business performance. With a leading success rate across more than 20 industries worldwide, you can count on OpenSymmetry to deliver the comprehensive solutions you need for a proven path to rapid results. From customized, proven solutions to seamless implementation, testing, training and managed services, OpenSymmetry has the proven track record and expertise you can count on to move you quickly from Strategy-to-Success.
Founded in 2004, OpenSymmetry is head quartered in Austin, Texas with offices in London, Sydney, Chennai, and Kuala Lumpur. Clients range from SMB to Fortune 500 companies across various industries. For more information, please visit http://www.opensymmetry.com.