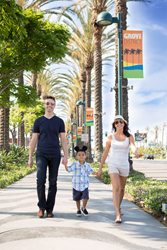 Garden Grove, CA (PRWEB) September 22, 2015
The Grove District Anaheim Resort, encompassing 10 modern hotels along a beautiful one-mile stretch of Harbor Boulevard in Garden Grove, is pleased to announce the launch of a new tourism website, grovedistrictanaheimresort.com. The site, which represents established hotel brands including Hyatt, Marriott, Hilton and Wyndham, provides detailed information for travelers, highlighting nearby restaurants, local attractions, as well as hotel features and amenities including meetings and event space.
"The City of Garden Grove is excited to welcome a new and improved tourism website that equally represents the Grove District Anaheim Resort hotels and provides an enhanced, user-friendly experience for visitors interested in learning more about the area and booking rooms at our world-class accommodations," says Greg Blodgett, Senior Project Manager, City of Garden Grove.
Showcasing the best of the Grove District Anaheim Resort, a new YouTube channel is populated with videos highlighting the hotels' family-friendly amenities, business and leisure features, and local shopping and dining. Visitors to the website can find more information about each hotel and book rooms.
Improved functions include a detailed map pinpointing the location of each hotel in relation to one another and to main attractions, an electronic press kit, high res photos available for download, and social media profiles including Facebook and Twitter. The website will be updated to include newsworthy information such as the imminent opening of Great Wolf Lodge® Southern California, opening in early 2016.
About Grove District Anaheim Resort:
The Grove District Anaheim Resort, located just one mile from the original Disneyland® and the Anaheim Convention Center, is a collection of 10 modern hotels catering to families and business travelers alike. With more than 3,600 hotel rooms, 100,000 square feet of event space, and internationally acclaimed hotel brands such as Hyatt, Marriott, Hilton and Wyndham, the Grove District Anaheim Resort offers an array of services and overnight options for travelers exploring the best of southern California. The Resort is conveniently located just a 15-minute drive from John Wayne Airport and with easy access to major freeways. The Anaheim Resort Transportation (ART) and hotel shuttle services provide door-to-door service to major attractions, like beaches, theme parks and the convention center. Expansion plans for the 520-acre, high-profile area along Harbor Boulevard include more than 1,000 new hotel rooms, several themed restaurants and entertainment venues, and the Great Wolf Lodge Southern California, a 603-room indoor water park hotel opening in 2016. For more information, visit grovedistrictanaheimresort.com.