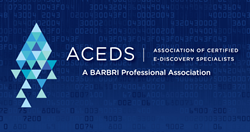 Miami, Fla. (PRWEB) September 21, 2015
The Association of Certified E-Discovery Specialists (ACEDS), a BARBRI Professional Association, today announced long-time industry expert Mary Mack as executive director.
Mack brings to ACEDS and its membership more than a decade of strong credibility and sound leadership within the e-discovery community. Under her leadership, ACEDS will further its commitment of building an international community of e-discovery practitioners for the exchange of ideas, guidance, training and best practices.
Mack is known for her strength in relationship and community building as well as for the depth of her e-discovery knowledge. Frequently sought out by media for comment on industry issues, she has spoken at venues including Gartner Symposium, the American Bar Association International Law Committee, the Association of Corporate Counsel Annual Conference, and others. Mack is the author of A Process of Illumination: The Practical Guide to Electronic Discovery, considered by many to be the first popular book on e-discovery, and the co-editor of the Thomson Reuters West treatise, eDiscovery for Corporate Counsel.
"Mary brings a depth of knowledge and a stellar network to strengthen and expand the value of the ACEDS community and certification," said George Socha, founder of EDRM, Apersee and the Socha-Gelbmann Electronic Discovery Survey. "I am looking forward to working with Mary in her new role, where, I am certain, she will do an exemplary job of carrying out and enlarging the organization's mission."
Prior to joining ACEDS, Mack most recently served in a leadership role for ZyLab, a global provider of e-discovery and intelligent information governance software. Before that, she was with Fios, Inc. a provider of e-discovery services to Fortune 1000 corporations and major law firms. Among her professional affiliations, Mack is a member of the Illinois State Bar and the Association of Corporate Counsel. She received her bachelor's degree from Le Moyne College and her law degree from Northwestern University School of Law.
"We're very excited to bring on an industry leader such as Mary," said Rick Rattray, senior vice president and general manager for BARBRI Professional Associations. "Her reputation throughout the e-discovery community is outstanding and I'm confident she will provide excellent leadership and direction for ACEDS and successfully serve as a champion for our association members."
More information is available on the ACEDS membership site.
About ACEDS
The ACEDS Professional Association, part of leading legal education provider BARBRI, is a membership association committed to promoting and verifying e-discovery skills and competence through training, education, and certification to organizations and individuals in order to reduce the costs and risks associated with e-discovery, and realize the advantages of performing it effectively. ACEDS awards the Certified E-Discovery Specialist (CEDS) credential, which is held by practitioners at Am Law 200 firms, government agencies, including the U.S. Securities and Exchange Commission and U.S. Justice Department, and some of the largest corporations in the world.