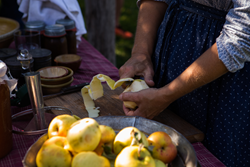 Dearborn, Mich. (PRWEB) September 22, 2015
Join The Henry Ford in celebrating and exploring more than three centuries of America's food heritage during Fall Flavor Weekends in Greenfield Village, Sept. 26-27 and Oct. 3-4. There are plenty of opportunities to take in the abundance of flavors the harvest season has to offer with a multitude of vendors at the Saturday Local Roots Farmers Market, cooking demonstrations inside the historic homes, and free samples of the products we sell.
Inside the homes, guests can learn different historic techniques as presenters prepare, bake, preserve and even brew using different recipes that would have been made as early as the 18th century through the 1930s. During the first weekend, guests will have the chance to see the 1904 Port Huron Steam Engine power the thresher and a chance to see how cider is pressed using the apples from the orchard at Firestone Farm. On Oct. 3-4, returning guests can experience a whole new look at the fall season with changing menus inside the homes, plowing taking place at Firestone Farm and for those interested in brewing their own beer, a chance to see how it was done during the 1700s at Daggett Farm.
On Saturdays, guests can browse the collection of goods inside the Local Roots Fall Farmers Market sponsored by Michigan Farm Bureau from 10 a.m. – 3 p.m., featuring only locally-produced foods, grains, honey, meats, breads and handcrafted creations from Greenfield Village's Herb Society. Throughout the two weekends, guests can also step into the Greenfield Village Store for an opportunity to sample the wares of some of our local food growers and producers. On Sundays, The Henry Ford's Chef Mike Trombley will be giving a family-friendly cooking demonstration alongside his favorite sous-chef, daughter Avery, using local ingredients inside A Taste of History at noon and 2 p.m.
Gleaner Life Insurance Society, a supporting sponsor of Fall Flavor Weekends, will host "Gleaner Day," on Saturday, Oct. 3. Guests who bring a donation of at least five nonperishable items to benefit Gleaner Community Food Bank will receive a coupon for Buy One, Get One Free admission to Greenfield Village, good for that day only (one coupon per person, some restrictions apply).
Presenting sponsor Meijer will have cooking demonstrations and food sampling in the Greenfield Village plaza on Saturdays during Fall Flavor Weekends. The event is free with membership or admission to Greenfield Village; tickets are $25 for adults, $22.50 for seniors (62 and up) and $18.75 for youth (5-12). Children under five are free. For more information, call (313) 982-6001 or visit http://www.thehenryford.org.
About The Henry Ford
The Henry Ford in Dearborn, Michigan is an internationally-recognized cultural destination that brings the past forward by immersing visitors in the stories of ingenuity, resourcefulness and innovation that helped shape America. A national historic landmark with an unparalleled collection of artifacts from 300 years of American history, The Henry Ford is a force for sparking curiosity and inspiring tomorrow's innovators. More than 1.6 million visitors annually experience its five attractions: Henry Ford Museum, Greenfield Village, The Ford Rouge Factory Tour, The Benson Ford Research Center and The Henry Ford IMAX Theatre. A continually expanding array of content available online provides anytime, anywhere access. The Henry Ford is also home to Henry Ford Academy, a public charter high school which educates 485 students a year on the institution's campus. In 2014, The Henry Ford premiered its first-ever national television series, The Henry Ford's Innovation Nation, showcasing present-day change-makers and The Henry Ford's artifacts and unique visitor experiences. Hosted by news correspondent and humorist, Mo Rocca, this Emmy®-winning weekly half-hour show airs Saturday mornings on CBS. For more information please visit our website thehenryford.org.
# # #