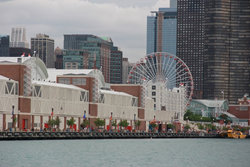 "This is a gathering of the minds that's unprecedented in our industry today." - Founder David Rice
Chicago, IL (PRWEB) September 22, 2015
On Oct. 7 - 9, New home sales leaders will gather from across the nation for an intensive three-day training conference. Held in the historic Streeterville neighborhood of downtown Chicago, the upcoming meeting will be packed with hands-on training sessions conducted by seasoned industry leaders in the interest of sharing best practices and modern-day solutions to complex market challenges.
Conference speakers include New Home Star Founder David Rice and other influential industry executives, covering a multitude of in-depth sales training practices. "This is a gathering of the minds that's unprecedented in our industry today," says Founder David Rice. "We are committed to ensuring that sales leaders are entrenched in excellent philosophy, processes, and procedures." Rice also highlights the importance of this training conference for new home sales associates. "Management and sales associates will reap benefits from this training. It will equip them with new high-level tools that they can implement as a team."
The informational breakout sessions will focus primarily on improving employee engagement, expanding operational processes, and devising new builder marketing initiatives. Recorded versions of these sessions will be available for New Home Star employees through the company's online platform, New Home Connect. For more information, visit http://www.newhomestar.com or contact the corporate office at (800) 730-6170 and info(at)newhomestar.com.
About New Home Star
New Home Star is a national real estate sales management firm serving homebuilders and developers across the nation. They train, manage, and recruit sales teams with a full-time focus on new home sales, working with some of the largest homebuilders in the U.S. and Canada, as well as small and mid-size companies. With a network of local sales divisions from coast to coast, New Home Star delivers sales insight for your business with a national perspective and a local presence. The business goal is simple: To help you sell more homes, more profitably™.