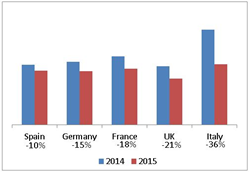 Portland, ME (PRWEB) September 22, 2015
Based on summer bookings made by U.S. residents, Auto Europe has released a study reviewing trends in the rental car rates and pickup destinations of U.S. residents traveling abroad. The study, found here, summarizes the top pickup countries as well as dissects the booking population by U.S. region to determine the most popular pickup city by region. Rental data shows travelers are opting to rent cars in Italy the most often, accounting for 24% of all summer 2015 bookings. Additionally, the data confirms that travelers paid dramatically lower rental rates, over 30% lower in some countries, this summer compared to last.
Also included in the findings are statistics on the popularity of cities by region as well as trends in rental rates year over year. For example, readers can expect to discover which U.S. region was the only one to include Lisbon, Portugal in their list of top five pickup cities and which city offered travelers the lowest average rental rate this summer.
"As the first aggregator in the car rental industry, dating back to 1954, we have been tracking the trends of travelers for over 60 years," says Auto Europe's Chief Marketing Officer, Scott Braun. "With the stronger position of the dollar against the Euro we were not surprised that this summer was an exceptionally strong one for car rentals in Europe from U.S. outbound travelers."
Read the full study on Summer 2015 Car Rental Trends.
About Auto Europe
With over 60 years of experience in the rental car industry, Auto Europe specializes in helping travelers find the lowest car rental rates in Europe and other popular destinations around the world. Auto Europe's deep understanding of the complexities of renting cars abroad paired with their knowledgeable team of rental specialists (available 24/7) allows Auto Europe to provide travelers with the best service in the industry before, during and after their rental. To find the best rate on a car rental for your next trip abroad or to learn more about renting a car in Europe visit http://www.autoeurope.com