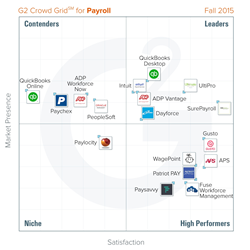 CHICAGO, IL - (PRWEB) September 22, 2015
The updated GridSM report for payroll software, published today by business software review site G2 Crowd, ranks 17 products to help purchasers in their selections.
QuickBooks Desktop, UltiPro, ADP Vantage HCM, Intuit Payroll, SurePayroll and Dayforce were named Leaders in the report, receiving strong customer satisfaction scores with a large market presence. Gusto (formerly ZenPayroll), APS Payroll Solution, Wagepoint, Patriot PAY, Fuse Workshop Management and Paysavvy were named High Performers, earning strong customer satisfaction marks with smaller market presence scores. SurePayroll earned the highest overall Satisfaction.
The GridSM, created from G2 Crowd's software review platform, factors in customer satisfaction reported by users, along with vendor market presence determined from social and public data to rank products. The Fall 2015 report is based on more than 525 reviews written by accounting and other business professionals.
Payroll portals allow companies to easily perform and track their payroll processes. It typically includes functionality to calculate and pay salaries, account for benefits and payroll taxes, process payroll, and print or deposit paychecks directly. Some payroll products are sold as a module of an HR management suite or integrate into core HR platforms.
Of the roughly 50 products listed in G2 Crowd's Payroll Software category, the ranked products each received 10 or more reviews to qualify for inclusion on the GridSM.
Across all payroll tools, reviewers reported the product they use meets their requirements at an average rate of 85 percent, and on average reviewers said they were 82 percent likely to recommend the product they use. Products appearing on the Payroll GridSM for the first time are Patriot Pay, Paysavvy, Dayforce, and QuickBooks Online. Quality of support was a polarizing payroll feature, and it was mentioned frequently in short-answer responses. While seven products had at least a 92 percent satisfaction rating, eight products received satisfaction scores that were lower than 80 percent, the lowest at only 38 percent.
Some highlights from the payroll software reviews on G2 Crowd:
"Simply put, SurePayroll works and provides a good service at a fair price. The system is quite flexible to handle many different types of issues for companies and the customer service is excellent for those times where help is needed. I typically get my payroll done in about [five] minutes per month. Seriously - that's all it takes!"

Daniel Lieber, President at Innovative Ideas Unlimited, Inc.
"UltiPro's payroll functionality is top notch. It's so nice to be able to enter updates in Core and be able to immediately update in Payroll. Our company is not interested in processing payroll in house, and UltiPro gives us the ability to process without having to worry about the back end net-to-gross calculations and tax tables."

Samantha Hansen, PHR; Senior HR Generalist at SRAM, LLC
"We do all of our bookkeeping, invoicing, and even payroll through [QuickBooks Desktop]. For a very small business like ours, it is really handy, and makes doing our taxes, getting payments, and basically everything on the financial end simple and consolidated."

Taylor Hales, Studio Manager at Electrical Audio
"We chose to go with [ADP Vantage HCM] because it was able to handle our specific costing issues. It really eliminated the number of people touching the payroll entries, by placing the entry process directly with the project managers."

Jennifer Halvorson, Payroll Manager at Orion Marine Group
"I've found Intuit Payroll to be one of the easier payroll systems to navigate...I find the tax payment process and e-filing returns to be very [straightforward] and I have had very few problems ever with errors on returns."

Kristen Mira, Self-employed Bookkeeper at Creative Bookkeeping Solutions
"[Dayforce] is a one stop shop, [a] single record for our employees where all information can be found in one system. It has given the HR Department the ability to streamline processes and spend time on [other things, as employees have] access to their information through the self-service portal. Easy to use and user friendly. Our employee populations spans [in age] from 18-60+ and it has been easy to teach and train."

Cindy Vasquez, VP of HR and Training at Melrose Clothing Stores
"[Gusto] takes an action like running and managing payroll, flips it upside down and makes it not [terrible]. The best feature is the overall lack of fluff. I can log in (from [my] desktop or [remotely]) and run payroll for my company in minutes. In addition, they do all of the tax hoop jumping and heavy lifting when tax season rolls around. In my first month of using [Gusto] I was able to cut time required for running and managing payroll by more than 50 [percent]."

Matthew Keefe, Founder and Sr. Developer at PixelBit
"APS [Payroll Solution] is super easy to use and very accurate. Not only is it easy to generate personnel payroll, but it's easy to extrapolate needed information for tax or other general purposes through their report system."

Jerald McManigal, Dentist at McManigal Family Dentistry
"I'm a huge fan of Wagepoint. It makes payday so much easier for my small but growing PR [agency]. My accountant is happy and so is the government. It is peace of mind for us creative types, knowing that all the numbers are taken care of."

Melissa Durrell, Communications and PR Strategist at Durrell Communications
"Once [Patriot PAY] is properly setup, running a payroll is literally a [one-minute] job. It takes longer to print the checks and reports than it does to run the payroll. We have the full service payroll feature , which is a bargain. Patriot takes out the taxes, prepares and files the reports, and sends the tax payments to the appropriate taxing authority."

Larry Singer, Business Owner at Information Protectors LLC
"What I like best about [Fuse Workforce Management]...is the exceptional customer service I receive...The software is very powerful and as a new user I had many questions…[Now] I actually enjoy doing the company payroll."

Elizabeth Jacksis, Deputy CFO at Three Wing Aviation Group LLC
"[PaySavvy] breaks the typical [mold] of antiquated user interfaces and complicated menu features with its payroll. Everything is [straightforward] and easy to find, or even if it isn't, there's a handy...rep waiting in a chat window at the bottom of the screen. I have never enjoyed payroll, especially when problems or special cases come up. Working with PaySavvy has left me with immense confidence in our payroll."

Leslie Collin, CHRP; HR Manager at Unbounce
Satisfaction rankings are generated from the user reviews, and market presence is calculated from vendor size, market share, and social impact. Based on a combination of these scores, each software solution is categorized as a Leader, High Performer, Contender, or Niche.
Premium research on payroll software can be purchased on the site for $599. This offers the original data for filtering and weighting, as well as individual profiles of each platform with the most helpful positive and negative reviews, detailed company information, user satisfaction ratings, feature scores and customer metrics. Future refreshes of the GridSM will provide updated rankings based on the latest reviews and social data.
Be sure to check out the new GridSM for the best payroll software and subscribe to the premium research.
_______________
About G2 Crowd, Inc.
G2 Crowd, the world's leading business software review platform, leverages its 40,000-plus user reviews to drive better purchasing decisions. Technology buyers, investors, and analysts use the site to compare and select the best software based on peer reviews and synthesized social data. Co-founded by the founder and former executives from SaaS leader BigMachines and backed by roughly $12 million in capital, G2 Crowd aims to bring authenticity and transparency to business technology research. For more information, go to G2Crowd.com.