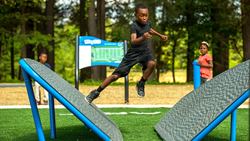 Fort Payne, Alabama (PRWEB) September 22, 2015
GameTime, a leading manufacturer of commercial playground equipment, outdoor fitness products and custom play spaces, introduced Challenge Course at the recent National Recreation and Park Association (NRPA) Conference and Expo in Las Vegas, Nevada. Designed to respond to one of the fastest growing segments in outdoor recreation, Challenge Course combines exciting obstacle course activities with precision timing systems to create a unique recreation experience for children, adults and families. It is a social fitness destination that creates opportunities for fun, physical activity for people of all generations and fitness levels.
Challenge Course is available in Pro and Youth configurations. The Pro Series meets the standards for outdoor fitness equipment and appeals to adults and older children (ages 13+) in parks and green spaces. The Youth Series is compliant with standards for playground equipment and is the perfect fit for schools and youth organizations. Challenge Course promotes friendly competition, encourages physical activity for people of all ages, and provides opportunities for outdoor exercise - three key tactics to help reverse the global obesity epidemic.
Challenge Course features elements that enhance a user's speed, agility and strength. There are challenges like Agility Trainers and Half Rounds that are found in football training camps, as well as more advanced challenges like Ninja Steps and Floating Boards that are emulative of televised obstacle course races.
There are six Challenge Course configurations now available, three each in the Youth and Pro series. Courses can be installed with an optional timing system that allows users to track their time, and an optional 40-Yard Dash is also available in single and double lane configurations with a timing system of its own. Each Challenge Course is eligible for National Demonstration Site status for Outdoor Fitness.
Learn more at http://www.gametime.com/challenge
About GameTime
GameTime is a leading US manufacturer of commercial playgrounds, custom play spaces and outdoor fitness equipment. Our products combine play research with thoughtful design to create award-winning playgrounds for people of all abilities. Since 1929 we have partnered with local and national advocates for play to build healthy, active communities for this generation and the next. Find out more about our mission of enriching the lives of children and families through play at http://www.gametime.com.