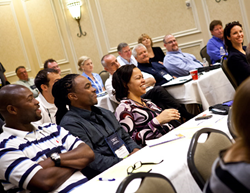 Conference attendees can explore topics that are crucial to assuring a safe workplace.
BATON ROUGE, LA (PRWEB) September 23, 2015
The seventh annual Louisiana Governor's Safety & Health Conference, produced by Alliance Safety Council, provides a collective venue for information sharing, networking and learning. This conference will take place Sept. 28-29 at the Crowne Plaza Hotel in Baton Rouge.
The event kicks off on Monday with a presentation from keynote speaker Dale Lesinski. Lesinski is vice president of sales and training for DiVal Safety Equipment in Buffalo, New York. Throughout his 25 years of safety sales experience, he has toured over 500 manufacturing plants and jobsites that include virtually every aspect of industry, construction, municipality and utility. Lesinski's "Safe 4 the Right Reasons" presentation demonstrates why we do some of the things we do and how we can deliver the greatest results by using our natural tendencies to stay safe on and off the job.
Tuesday's "BEST Talks" will provide best practices and pertinent insight regarding business, economy, safety and technology. The panel features industry experts Dan Borne', president of the Louisiana Chemical Association/Louisiana Chemical Industry Alliance; Kathy Trahan, CAE, president and CEO of Alliance Safety Council; and Dr. David Barczyk, wellness expert and author of the book "Wellness Wake-up Call."
Dorinda Folse, OSHA area director for Baton Rouge, will provide an OSHA update with essential, timely information to help organizations avoid costly citations and incidents that take an even more costly human toll. Last year, Folse provided the top 10 most cited standards where, for the fourth year in a row, fall protection topped the list.
With the opportunity to attend various sessions, conference attendees can explore topics that are crucial to assuring a safe workplace while earning continuing education units. Attendees will get a chance to delve into subjects such as complacency, quantifying risks, noise and vibration exposure, and emergency preparedness.
Outside of the sessions, there will be exhibitors from a variety of industries, ready to share knowledge and expertise about the latest tools and information for advancing safety, security, emergency preparedness and health.
For more information and to register for the conference, visit http://www.thesafetyexpo.com.
#
Alliance Safety Council is a 55-year-old nonprofit, member-driven association providing online and instructor-led safety training and related services for the metro Baton Rouge area as well as nationwide. Alliance has now supported 300-plus industrial facilities in the region and trained 150,000-plus students annually from every state in the nation as well as internationally for more than 1,400 contractor companies. For more information, visit http://www.alliancesafetycouncil.org.