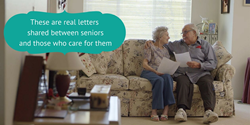 "Making a positive, meaningful difference in the life of another is the essence of our humanity. These videos celebrate the wonderful connection between seniors and those that serve and care for them," saysWESTliving President, John Rimbach
carlsbad, CA (PRWEB) September 21, 2015
According to the great Cicero, "Gratitude is not only the greatest of virtues, but the parent of all the others." WESTliving has embraced this and started a movement of positivity to encourage gratitude across the globe through a video series called "Thank You Notes". Each of the WESTliving communities will be hosting a World Gratitude Day event over the next week and everyone is invited online to join the movement of thankfulness by watching and sharing the videos. The first video launches on World Gratitude Day, September 21, 2015 and can be watched here: https://www.youtube.com/watch?v=7xAlWy0wu40.
The films are based around seniors and those who care for them reading "thank you letters" to each other that they have written. They are real letters written by real WESTliving residents and staff members with genuine love for each other.
"One of our team members declared when asked about serving seniors… 'Doing the right thing for them, I'm doing the right thing for me!'" says WESTliving President, John Rimbach. "Making a positive, meaningful difference in the life of another is the essence of our humanity. These videos celebrate the wonderful connection between seniors and those that serve and care for them. "
Four videos make up the series. The first video is a medley of thank you notes from multiple different people sharing bits and pieces from their letters while the remaining three videos break down stories of gratitude between two individuals reading their notes to each other in their entirety.
"We really want to encourage everyone to write a thank you note to someone they care about," states WESTliving's Social Media and Marketing Specialist, Kristi Peterson. "This project has been so wonderful to work on because it finally puts something positive into a world with so much negativity."
The following videos will be launched over three Thursdays in October; October 1, 2015, October 8, 2015 and October 15, 2015 on WESTliving's YouTube channel- https://www.youtube.com/channel/UCWWbscxwc_Z3KpL4gN_D5Iw.
"The videos reflect our WESTliving promise to express our gratitude by finding time to stop and thank the people who make a difference in our lives," says Rimbach.
About WESTliving
WESTliving is a company formed in 2009 to own and operate hospitality based senior living communities providing exceptional variety of lifestyles, wellness, and care options. The WESTliving mission centers on delivering exceptional services and experiences by inspiring and empowering its Team Members to make a meaningful difference in the lives of those they serve. Communities are located throughout California, Arizona and Washington. To learn more about WESTliving visit http://www.westliving.net. To learn more about "Thank You Notes" visit http://www.westliving.net/thank-you-notes/.
Media Contacts:
Patrick Collins
WESTliving
Chief Operating Officer
5796 Armada Drive, Suite 300
Carlsbad, CA 92008
T 760.602.5790
pcollins(at)westliving(dot)net
Kristi Peterson
WESTliving
Social Media and Marketing Specialist
5796 Armada Drive, Suite 300
Carlsbad, CA 92008
T 760.602.5790
kpeterson(at)westliving(dot)net