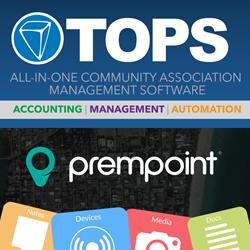 Clearwater, FL (PRWEB) September 22, 2015
TOPS Software, makers of the TOPS suite of community association management software, is pleased to support startup partner Prempoint Inc. as they debut their new product at TechCrunch Disrupt 2015 in San Francisco this week. Prempoint is a new startup focused on leveraging the Internet of Things (IoT) for property management and other related fields.
Matthew Hartley, CEO and co-founder of Prempoint Inc. explains how the app helps property managers: "Roughly 40-50 percent of a Property Manager's time is spent managing vendors. This is an opportunity to have a major impact on their day to day operations and overall business. Prempoint's mobile app solution will streamline self-service access control to various property facilities from gates to sprinklers, provide advanced remote monitoring capabilities of work performed, and automate the work order process."
Prempoint v1.0 is scheduled for release in Fall 2015. View a video demo here:vimeo.com/prempoint/streamlineaccess.
In addition to debuting their IoT technology, Prempoint also announced they have entered into a strategic partnership with TOPS Software. Prempoint is utilizing the new TOPS API to integrate their technology with the TOPS community association management suite. These innovations in work order automation will bring new levels of productivity and automation to security minded community associations, regardless of size.
The TOPS API (Application Programming Interface) allows partners to securely connect with client data stored in the TOPS cloud, and interact with that data through their own applications. The TOPS API is currently being tested by approximately a dozen industry vendors, of which Prempoint is one.
"What is great about the new TOPS API is the focus the team has put on it being a 'mobile ready' integration API," stated Mr. Hartley. "This is KEY for a solution like ours that is completely mobile."
ABOUT PREMPOINT
Prempoint Inc. designs and develops mobile solutions that are revolutionizing access control and publishing for the Internet of Things. Prempoint Inc.'s market focus is on consumers and businesses for diverse industries like property management, home services, events, and travel/hospitality with a simple mission, share secure access to ANYTHING. Visit http://www.prempoint.com to learn more about their solutions for the Internet of Things.
ABOUT TOPS SOFTWARE
TOPS Software, the leader in Condominium and HOA management software solutions, is committed to bringing the best products and services to the community association management industry. TOPS products are used by thousands of organizations to manage millions of homes across the United States. Learn more about TOPS at http://www.topssoft.com.