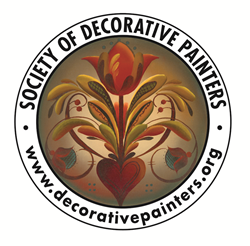 Wichita, KS (PRWEB) September 22, 2015
The Society of Decorative Painters (SDP) announced its 44th Annual Conference & Expo will be returning to the Town and Country Resort & Convention Center in San Diego, CA, taking place June 6-11, 2016. The SDP Conference & Expo is an essential event for painters of all skill levels and ages, and any lover of the decorative painting art form. Online registration for the event will open on December 8, 2015.
The 2016 SDP Conference will feature over 80 painting classes, representing a variety of on-trend and traditional mediums, including acrylic, colored pencils, mixed media, oil, watercolor and a variety of other mediums. Headlining this year's event is Debbie Cole, Certified Decorative Artist (CDA), an award-winning artist who is widely recognized as a leading contemporary decorative painter. Cole will offer an original approach to the popular mixed media and colored pencil mediums by utilizing decoupage and stamping techniques in her artwork, interpreting the Conference theme, "An Artful Journey". In addition, there will be special events where SDP members and attendees can gather with new and old friends, and keep painting into the night.
"Attendees who take my classes will receive door prizes, and $60 worth of products to take home and continue their 'Artful Journey'," said Debbie Cole, CDA. "They will have an unforgettable creative experience working with products from five different companies."
Companies selling a variety of paint supplies and finished goods will host demos and sell their products at the SDP Expo. The Expo will have something for everyone – decorative painters, young crafters, artisans and creative enthusiasts – including pattern packets, decoupage, painting surfaces, paint, frames and mats, mat cutters, organizers, paper palettes, colored pencils, watercolor pencils, ink pens, chalkboard paint, nail art, calligraphy, new products, finished products and more. Vendors who have already signed up to exhibit are Angel Thyme Designs, Bear With Us, Marlene's Folk Art, Rol Publications, Scharff Brushes and The Magic Brush.
"The SDP Board, staff and committees are hard at work to make sure the 2016 SDP Conference & Expo is better than ever," said Wendy Watson, SDP President. "I am really looking forward to returning to the San Diego area. The Town and Country Resort is beautiful. It's the perfect location to go on 'An Artful Journey' with your family and friends!"
Visit http://www.decorativepainters.org for more information and the latest announcements about the SDP Conference & Expo. The Conference Special, which will have a schedule of all the SDP programs and events, will be available online in November.
ABOUT THE SOCIETY OF DECORATIVE PAINTERS (SDP)
SDP is a membership organization with members throughout the United States, Canada, Japan and 42 other countries. It has over 200 affiliated chapters that actively promote the art form through community service projects and painting-related activities. SDP publishes the industry's leading decorative painting magazine, The Decorative Painter, and hosts one of the largest annual decorative painting conferences and expos that draws worldwide artists. For more information, visit http://www.decorativepainters.org.