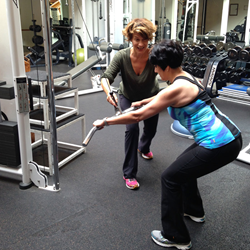 Her warmth and sense of humor are priceless, and the combination is what keeps me coming back for more
SAN FRANCISCO, CA (PRWEB) September 23, 2015
During the last week of September, Pacific Heights Health Club is hosting Live Well Age Strong, a week-long fitness celebration in partnership with local Fillmore Street merchants to provide fun life changing experiences that will jump start new healthy habits. Participants will experience the latest training techniques and exercises starting with the 70K Step Challenge Kickoff on September 27, 2015. Infused with the anti aging formula, laughter and play, the numerous workshops and specialized training sessions that follow during the week are designed to increase strength, stamina, range of motion, flexibility, and improve mood and sleep. Prizes will be provided by prAna (COLM) and Athleta (GPS).
"To counter the effects of aging, exercise is key," says Stacee Brown, P.T., D.P.T, A.T.C., owner of FORM Physical Therapy, "It's the real fountain of youth." According to the National Institutes of Health, physical inactivity is a primary cause of most chronic diseases. Add to this, AARP indicates that baby boomers will be turning 65 at a rate of about 10,000 a day for the next 14 years, and it's easy to see why Pacific Heights Health Club has chosen to be a host site for Active Aging Week in San Francisco.
"I've been a member since 2006 and have had the pleasure of working with Althea Hondrogen on specific issues related to my back and hips. She has an extensive knowledge of the body and was able to work around my issues while making me stronger and more fit in the process. Her warmth and sense of humor are priceless, and the combination is what keeps me coming back for more," notes Janet Winegardner, Senior Account Manager at CBS Local Media. With easy access to highly experienced personal trainers, the club's members benefit from personalized fitness programs, each one developed in a collaborative manner to meet the member's specific goals, interests and preferences.
Live Well Age Strong gives attendees the opportunity to experience Qigong or personal training or yoga or Pilates in a different kind of setting. Unlike the larger and well known corporate chains, the boutique neighborhood feel of this club provides an unassuming atmosphere that immediately puts visitors and new members at ease, providing an environment that encourages new friendships, where training sessions and classes are reminiscent of recess on the playgrounds from years past.
According to AARP, as boomers age, they see retirement as the good life just beginning, and they want an independent, robust life, free of chronic disease or disability. Live Well Age Strong embraces living life as an adventure, the theme of this year's Active Aging Week.
For registration and additional information on Live Well Age Strong at Pacific Heights Health Club, visit: https://phhcsf.com/strong.htm.
###
About Pacific Heights Health Club
Website: http://www.phhcsf.com
Founded in 1984, Pacific Heights Health Club has been serving the community in its current location for over 30 years. Dedicated to creating healthy lifestyles - one person at a time, members feel comfortable and at ease in this boutique neighborhood club. While connecting with old friends and making new ones, they also see and feel the results of making healthy lifestyle choices. Discover how fitness happens while laughing and having fun.
About Active Aging Week®
Website: http://www.activeagingweek.com
Established in 2003, Active Aging Week is an annual event held the last full week of September (in the lead up to and around October 1, International Day of Older Persons). The week was initiated by the International Council on Active Aging to give as many older adults as possible the means to experience wellness activities and exercise in a safe, friendly and fun atmosphere. During the week, host organizations provide a variety of free activities, such as classes, educational seminars, access to fitness facilities, health fairs and community walks. Active Aging Week events embrace all dimensions of wellness – emotional, vocational, physical, spiritual, intellectual, social and environmental.
About International Council on Active Aging® (ICAA)
Website: http://www.icaa.cc
Active Aging Week 2015 is led by the International Council on Active Aging® in partnership with the President's Council on Fitness, Sports and Nutrition, and the National Institute on Aging's Go4Life® Campaign. This year's sponsors include Aegis Therapies/EnerG® by Aegis, CaptionCall, Institute for Preventive Foot Health (IPFH), Nestlé Skin Health, SwimEx, and Sysco.