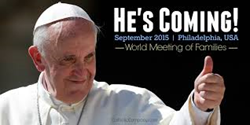 Our City is not only a "gateway" into Philadelphia but truly the "Gateway to the Pope."
Atlanta, Georgia (PRWEB) September 23, 2015
Camden, NJ is offering parking permits for personal vehicles at the waterfront during the Pope's visit to Philadelphia - allowing visitors to Ride, Walk, or Sail to September 26-27 Papal Events.
"I think the easiest way to see the pope right now is through New Jersey," Louis Cappelli, Jr. of the Camden County Freeholders Director said.
Parkmobile Reservations System announced that parking permits at Camden Waterfront are now available for travelers to secure preferred parking for Pope Francis' visit to Philadelphia. Those who park on the Camden Waterfront will have access to the closest lots to the Papal venues. Preferred Parkers will have the options of riding a PATCO train, crossing on the RiverLink Ferry, or walking across the Ben Franklin Bridge, which will be closed to vehicular traffic.
"When you drive into Route 676 into Camden, show your pass to a police officer, and you'll be directed right to the waterfront in Camden," Cappelli said. Camden officials say there will be plenty of police on hand.
"Everyone should feel safe, we have a lot of amenities that will be available particularly for those who walk to the transportation center or to the bridge. There'll be port-a-pots and hand washing stations and water stations, vending, benches if you get tired," Camden County Police Captain Al Handy said.
"This is will be a joyous, historic occasion and one that will cast a positive spotlight on this region nationally and internationally," said Mayor Dana Redd. "Camden is honored to welcome visitors from through-out the world and our goal is to make the pilgrimage of thousands of people coming to see the Pope as easy and enjoyable as possible. Our City is not only a "gateway" into Philadelphia but truly the "Gateway to the Pope."
Visitors should plan ahead before attempting to travel. The Camden Waterfront will be open for those who have pre-purchased a parking permit in the lot. Those who park on the Camden Waterfront will have access to the closest lots to the Papal venues. Parking is limited to approximately 8,000 parking spaces and individuals can pre-purchase permits for parking at http://www.gatewaytothepope.com.
"Now that personal vehicle parking is available upon registration on the Camden waterfront, the pilgrimage can become much easier and convenient for anyone who is looking to have ideal proximity to downtown Philadelphia. Park in Camden, ride PATCO or take the ferry from the waterfront and arrive in Center City in minutes, Freeholder Director Louis Cappelli said. This is the best way to go to see the Pontiff."
For more information please visit http://www.gatewaytothepope.com for more information or to reserve your parking space.