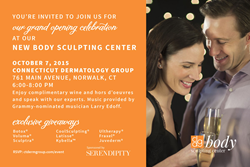 "We are elated for the opportunity to introduce and educate our patients and Connecticut residents to our innovative cosmetic technologies offered at the Body Sculpting Center at CDG" said Dr. Mraz Robinson.
Norwalk, CT (PRWEB) September 22, 2015
Connecticut Dermatology Group (CDG), the largest physician-directed dermatology practice in Fairfield County, has opened a state-of-the-art expansion to their current Norwalk office, focusing on cosmetic and body sculpting treatments. CDG will host a special public event to celebrate the opening of their brand-new Body Sculpting Center. Experts will be on-hand to explain new procedures and devices that help rejuvenate, re-contour and re-sculpt problem areas of the head, neck and body impacted by aging.
Several exciting advancements in the medical arena of skin rejuvenation and body sculpting will be made available through the center. As the only practice in Connecticut, and among only 25 practices in the country, Connecticut Dermatology Group will offer two new treatments. Cellfina™, the only FDA-cleared minimally invasive procedure clinically proven to improve the appearance of cellulite for results that last at least two years, the longest duration cleared by the FDA, and Kybella®, a non-surgical injectable for reducing moderate to severe fat on the upper neck, otherwise known as a double chin.
The grand opening will be held on Wednesday, October 7th from 6 to 8 PM at 761 Main Avenue in Norwalk, CT.

Dr. Deanne Mraz Robinson, Director of the Body Sculpting Center, discusses her involvement in the clinical trials for Kybella and Cellfina
Groundbreaking technology and innovative procedures, such as Kybella, Cellfina, Ultherapy, Fraxel, and CoolSculpting – many are unique to CDG
"Ask The Experts" - an opportunity to ask the experts & learn about the benefits of each treatment specific to your body
Complimentary wine and hors d'oeuvres
Exclusive giveaways, including:
Voluma ® Latisse ® CellFina™ Fraxel ® Sculptra ® Kybella™ Botox ®
CoolSculpting ® Ultherapy ® Juvederm ®
Along with her distinguished experience in cosmetic dermatology, the Body Sculpting Center Director - Dr. Mraz Robinson, is active in research and has authored numerous articles for peer- reviewed journals and chapter texts, in addition to serving as an editor for multiple medical journals and audio publications such as Dialogues in Dermatology. She was one of the lead investigators in the FDA clearance trial for Cellfina, and is thus one of the first physicians to treat cellulite with the Cellfina System. Additionally, she was one of the investigators in the pivotal approval trial for Kybella. Dr. Mraz Robinson is excited to return to Connecticut and share her expertise in laser, surgical, and cosmetic dermatology.
"We are elated for the opportunity to introduce and educate our patients and Connecticut residents to our innovative cosmetic technologies offered at the Body Sculpting Center at CDG" said Dr. Mraz Robinson. "All patients have questions about aesthetic procedures. Addressing these concerns provide the knowledge needed to make a decision that will improve their physical appearance, confidence and overall quality of life."
Dr. Mraz Robinson obtained her Medical Degree from University of Rochester School of Medicine and Dentistry, going on to complete her dermatology residency at Yale New Haven Hospital in New Haven, CT where she became Chief-Resident. She then completed a fellowship in Cosmetic, Laser, and Surgical Dermatology at SkinCare Physicians in Chestnut Hill, MA.
She is an active member of several professional organizations and serves on advisory and leadership boards for the American Academy of Dermatology, the American Society of Dermatologic Surgery (ASDS), and the American Society for Laser Medicine and Surgery (ASLMS). Dr. Mraz Robinson is an invited speaker at national surgical and aesthetic meetings such as Controversies and Conversations, ASLMS, and ASDS. She remains active in academia and serves as volunteer faculty at Yale University of Medicine, Department of Dermatology.
To learn more about the event and RSVP, go to: http://ctdermgroup.com/event
To schedule an appointment with Dr. Deanne Mraz Robinson, call 203-810-4151.
About Connecticut Dermatology Group
Connecticut Dermatology Group (CDG) is a leader in dermatology services in Connecticut. Since it's founding in 1964, CDG has provided comprehensive skin care to tens of thousands in Connecticut through its Norwalk, Milford, and Stamford offices. CDG is Fairfield County's largest physician-directed skincare center providing medical and surgical care, as well as state-of-the-art cosmetic services. CDG has been designated as a national dermatological testing center to conduct clinical trials for new and upcoming medical and cosmetic services. Managing Partner, Dr. Steven A. Kolenik III has been peer nominated as 2015 Top Doctor in Fairfield County by Castle Connolly. Dr. Kolenik III has completed over 19,000 Mohs procedures.