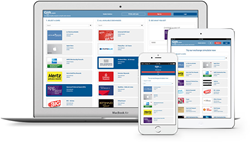 (PRWEB) September 22, 2015
Giift was featured on NewsWatch as part of its monthly AppWatch, which takes a look at the latest and coolest applications on the market for iOS, Android, and Windows. Joe Toohey, the host of AppWatch and technology expert, conducted the app review and shared with viewers how this app allows users to store their loyalty program cards in one place.
Loyalty programs that allow patrons to redeem free or discounted services and products are a great way to save money in the long run. It seems every business offers loyalty programs these days, from Starbucks to Panera to the local bodega. It can get a little unwieldy to hold onto and even manage that many cards or programs.
Giift allows patrons to load all their programs right into the app's digital wallet. Once they're all uploaded, users will get an estimate of what each one represents in dollar amounts. Based off the programs users belong to, they'll see deals that they can take advantage of and see if they're near any retailers.
This unique application also offers the ability to exchange points between loyalty programs. They've basically turned the concept of loyalty points into exchangeable currency. For example, users can exchange Starwood Points for a certain amount of miles with Delta or JetBlue. Before confirming that exchange users can see what the exchange rate is between the loyalty or miles program. Giift also works with gift cards the same way.
To learn more, visit http://www.giift.com today.
About NewsWatch
NewsWatch is a weekly 30-minute consumer oriented television show that airs on the Discovery Channel and ION Network. NewsWatch regularly features top technology products and services, mobile applications for iOS, Android, and Windows devices, unique and beautiful travel destinations around the world, health and medical tips, and entertainment interviews on the show. NewsWatch airs on the Discovery Channel at 7:00 – 7:30 AM ET/PT.
NewsWatch is located in the greater Washington, DC area and has been on air for over 25 years. For more information or to watch the most recent episode, visit http://newswatchtv.com/appwatch.html.