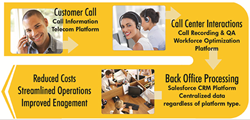 OnviSource is helping improve technologies, functionality and security measures for CMD's client transactions.
Plano, TX (PRWEB) September 23, 2015
OnviSource announced today that it successfully implemented its Transacta™ automated data transaction and unification solution for CMD (Construction Management Data), a leading North American provider of construction information. Transacta automatically captures, associates, and unifies pertinent events and data to the entire lifecycle of a transaction. OnviSource helped optimize content to enable CMD to seamlessly integrate call transaction data with customer transactions in Saleforce.com, a Customer Relationship Management (CRM) platform. The completed project delivered single "point and click" access to all data associated with the customer transaction journey.
Several additional OnviSource software products were also employed to provide an integrated workforce optimization (WFO) solution, including call recording, quality assurance, and desktop analytics with PCI-DSS compliance. Transacta normalizes, unifies and deposits the data in Salesforce.com. This significantly improves productivity related to the processing of transactions. Transacta is compiling, tracking and providing a holistic view of the entire customer transaction journey throughout multiple stages and across applications of the entire enterprise.
"Today's enterprises utilizing multi-site owned or outsourced contact centers - each center using multi-vendor and different PBX, ACD, WFO, CRM or other enterprise platforms – are confronted with massive '"big data"' management." said Art Yri, OnviSource CTO. "Centralizing the presentation, and normalizing and analyzing the data and information regardless of the type of platform, improves costs, operations, and customer engagements."
OnviSource delivered several key benefits to CMD, including:

Unification offers a significant increase in productivity, reducing costs and eliminating human errors.
Customer transaction journey can be monitored and viewed from a single place in order to evaluate and improve the customer experience and/or processes.
One click from the Salesforce.com CRM enables the users to access and utilize the entire WFO set of applications to perform monitoring, quality assurance and analytics functions.
Access to previous transactions is simple, eliminating the need for labor intensive, costly and time-consuming investigation and reconciliation of records.
"OnviSource's Transacta™ Solution is integral in helping improve technologies, functionality and security measures for CMD's current and future client transactions, said Derek Dean, CMD vice president of sales. "It also allows CMD to more effectively comply with regulatory requirements."
Transacta has eliminated gathering data manually and associating the dispersed information. Today, Transacta deposits the associated data in a single, user-defined file using Salesforce.com CRM records that represent the transaction process used by CSRs and other employees.
Transacta is part of the OnviCenter 7™ Solution Suite offered by OnviSource as on premise software product, managed services, or cloud services.
###
About CMD
CMD is a leading North American provider of construction information. CMD's diverse portfolio of innovative products and technologies includes national, regional and local project leads, marketing solutions and market intelligence to provide insight to construction industry professionals throughout the U.S. and Canada. Visit the CMD website at cmdgroup.com.
Media Contact
Deborah Reale, Senior Manager, Social Networking
CMD
770–209-3372
deborah(dot)reale(at)cmdgroup(dot)com
About OnviSource
OnviSource enables companies to cost-effectively optimize, automate and unify their customer interactions, business transactions and processes for their contact centers, back offices and IT organizations through software products, cloud services or outsourcing solutions. Founded in 2004, the company has a well-established customer base with over 1,100 installations in a wide range of industries, has experienced consistent growth and profitability, and is recognized by industry analysts as a major contender and pioneer in the enterprise and contact center workforce optimization, automation and unification industry.