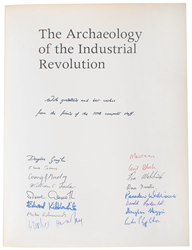 "Stephen Hawking has accomplished an incredible amount in spite of his handicap, and we are proud to offer this rare signature to the public."
Lakewood, New Jersey (PRWEB) September 22, 2015
Antiquarian Archives, a company with an extensive inventory of rare books and documents, has recently consigned a number of exceptional pieces to RR Remarkable Rarities Live Auction. Noteworthy amongst them is a book containing the exceptionally rare signature of Stephen Hawking, along with a number of colleagues at the Cambridge University. The book was presented to a faculty member in 1973 upon his leaving the Institute of Theoretical Astronomy at Cambridge, where Hawking worked as a research scientist, and is accompanied by an ironclad provenance from the original recipient.
Stephen William Hawking is a world-renowned British theoretical physicist, known for his contributions to the fields of cosmology, general relativity and quantum gravity. Hawking held the title of Lucasian Professor of Mathematics at the University of Cambridge, one of the world's most celebrated academic positions first held by Isaac Newtown, and is a fellow at the Royal Society. He authored a number of notable titles, including A Brief History of Time, which was an international bestseller, and is the subject of the movie "The Theory of Everything," released in 2014.
At a young age, Hawking was diagnosed with ALS (amyotrophic lateral sclerosis), a progressive neurodegenerative disease, which has gradually paralyzed him over the decades. This fact had made anything signed by Hawking extremely rare and virtually unheard of. The time from when this autograph was signed marked a period of physical deterioration, and he would soon lose his ability to walk and write. "We are really excited about this," says Rachel Gifter, Director of Marketing at Antiquarian Archives. "Stephen Hawking has accomplished an incredible amount in spite of his handicap, and we are proud to offer this rare signature to the public."
Click here to watch a clip of one of the only other known autographs of Stephen Hawking signed in the Charter Book of the Royal Society, and hear the rarity of his signature discussed.
To view this item on RR Remarkable Rarities Live Auction's website, click here. Pre-live bidding is until Sunday, September 27th, and will be followed by the live auction, on Monday, September 28th, in Boston, MA.
About Antiquarian Archives:
Antiquarian Archives is a unique company with a passion for historically important and rare documents and books. http://www.antiquarianarchives.com