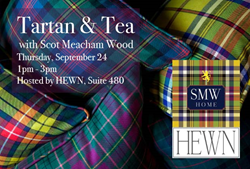 San Francisco, CA (PRWEB) September 22, 2015
Established San Francisco interior designer and style icon Scot Meacham Wood is thrilled to celebrate the launch of his eponymous luxury fabric and home goods collection with a tea time reception at HEWN on Thursday, September 24. A natural extension of Scot's design aesthetic and personality, Scot Meacham Wood Home centers on the textile collection, a gorgeous selection of 50 fabrics created using goods imported from a historic mill in Scotland.
At Tartan & Tea, attendees can browse SMW Home's fabrics and mingle with the designer over tea at HEWN's San Francisco Showroom. The collection--which draws on both the designer's Southern heritage and penchant for traditional Scottish textiles--highlights tartan, a pattern that has become synonymous with Scot's design identity. Although drawn from tradition, the tartans play with fresh color and scale to suit today's modern home. Beyond the fabric collection, SMW Home features trimmings, hand-selected antiques, one-of-a-kind pieces and home accessories.
Tartan & Tea will take place from 1:00PM to 3:00PM, Thursday, September 24, at HEWN's San Francisco Design Center Showroom, located at 101 Henry Adams Street Suite 480, San Francisco, CA, 94103. To RSVP and learn more about the event, please visit the EventBrite link here.
About Scot Meacham Wood and SMW Home
A Southerner with a deep rooted connection to Scotland, Scot Meacham Wood is renowned for his timeless design and magnetic personality. Since establishing his firm, Scot Meacham Wood Design, in 2001, Scot has become an interior design icon, showcasing commercial and residential projects across the United States and developing a captivating online presence. Drawing inspiration from his heritage and thirteen years of experience working with Ralph Lauren, Scot's signature style highlights European and Southern sensibilities, sartorial influences, and bold prints. With Scot Meacham Wood Home, the tastemaker premieres a one-of-a-kind collection featuring fresh takes on traditional Scottish textiles and antique home accessories. With its luxurious collection of fabrics and focus on Scot's signature tartan, SMW Home is truly a natural extension of the designer himself.