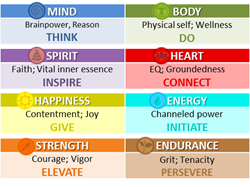 Washington, DC (PRWEB) September 22, 2015
500 BC, an entertainment media company, today announced the roll-out of its flagship app, YouQuest. It is self-discovery and improvement with a twist: an ancient-style whole-self daily checkup that connects the every day to the distant past.
Fun app with a serious agenda.
Studies confirm that self-awareness and self-care are key to emotional and physical health. Researchers found an association between negative thinking and technology use. This is the first app that tells Users to stop using it; think of it as tough love with humor. This world is full of surprises, mysteries, adventure -- now this app makes it easier to drum up energy to look beneath the surface.
"Inner selfie" comes of age. (Again.)
There is a reason that Socrates and the greatest minds that ever walked the Earth advised this: Know thyself. At the heart of wellness is listening to ourselves. The need for self-discovery and improvement is timeless, fundamental and in our case, life-saving.
Life-saving lesson of self-awareness and discovery.
"When something is not right in our lives, we instinctively know it; but we have to listen – and act. When my daughter's knee pain interfered with her ability to play a sport she loved, doctors assured her it was growing pains. Then the school athletic trainer noticed a lump the doctors had missed. It was bone cancer. We caught it early, and are so very grateful. Now it is my mission to make the art of self-awareness an entertaining, useful daily habit." – Carol Phelan-Marsh, founder and president of 500 BC.
How it works. Users can take up to three quizzes a day; answers are instantly analyzed and personalized insights are served based on each User's strengths and challenges in that moment. Behind the curtain are deeply researched and tested wisdom databases, a linguistics-based algorithm and UR-Q (Universal Rhythm Quotient) that measures the interplay of eight essential human characteristics, each on a 25-point scale:
Until now, the world of self-improvement apps has been divided into two camps: all body or all mind. Research shows that there are great insights to be gained through integration; Hippocrates would agree. Some truths are universal; distant ancestors held beliefs and knowledge that still apply to modern issues. Even cave drawings were an ancient form of Pinterest ("I want a bison THIS big").
Inside YouQuest:

A daily adventure – Take a journey of discovery. Why not devote some candy smashing or imaginary bird flinging time to free the mind and have fun doing it? Trek through the ages learning from the greatest minds in human history.
Travel through time – Human history begins with the stars. From the nitrogen in DNA, calcium in teeth and iron in blood to carbon in a friend's Instagrammed apple pies – all were formed in the core of collapsing stars. Yes, humans are made of star stuff.
Fuel the imagination – Daily quizzes offer insights into strengths and challenges. Tailored feedback connects Users to ancient truths and symbols to cultivate confidence and resilience, reawakening the inner warrior.
Say that again? – Users' acquired wisdom is stored for later reflection. Online cat videos can be enlightening (ancient Egyptians would agree), but now Users can access timeless knowledge on the go.
Unlock a better you with YouQuest!
DOWNLOAD THE APP HERE.
App Store: http://bit.do/youquest-from-500-bc-apple
Google Play: http://bit.do/youquest-500-bc-android
About 500 BC, Inc.
Why battle our way out of life's challenges as if no one has ever been here before? Is there any real difference in dealing with an angry boss or a vicious sabre-tooth tiger? Not if you wear a loincloth to work. 500 BC is an entertainment media company on a mission: to help you navigate the game of life with the wisdom of the ages on your side. 500 BC is here to make the quest of the ages useful and fun. Look back in time, then look up. Get perspective. Unplug. Harness the power of modern technology to reveal the wisdom of the past.
Sources: Royal Australasian College of Physicians; Carnegie Institute of Technology, Psychologist Angela Duckworth, Forbes