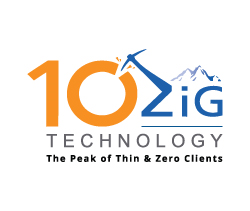 Meeting prospective customers and allowing them to demo our industry leading line of Thin and Zero Client computers is an invaluable experience for our company
Phoenix, AZ (PRWEB) September 22, 2015
10ZiG Technology announces 2015's remaining trade show schedule fresh off their remarkable showing at VMworld 2015 where the company made news by introducing the industry leading 7800q Thin Client in partnership with AMD. The latest offering from 10ZiG features an AMD Steppe Eagle 424 Quad Core 2.4 GHz processor, configurable to 8GB DDR3-1866MHz RAM, optional Quad Video Output and an integrated Smart Card reader. The new 10ZiG 7800q Series which was debuted is designed to meet the increasing demand within the VDI market to support power users who rely heavily on CAD, 3D graphic design and imaging programs within sectors such as Healthcare, Government and Manufacturing.
Rounding out a very successful 2015, 10ZiG Technology will be displaying their full line of Thin and Zero Client hardware at the following shows:
September 23rd: Chicago VMUG UserCon – Donald E. Stephens Convention Center in Chicago, IL
September 24th: Atlanta VMUG UserCon - GWCC in Atlanta, GA
Sept 29th: Dallas/Fort Worth VMUG UserCon - Irving Convention Center in Dallas/Fort Worth, TX
October 2nd: Northamber Tech Expo 2015, Epsom Downs, Surrey, UK
October 7th/8th: IP Expo 2015, ExCel, London, UK
Oct 30th: Phoenix VMUG UserCon - Phoenix Marriott Tempe at The Buttes in Tempe, AZ
Nov 3rd: Portland VMUG UserCon - Oregon Convention Center in Portland, OR
Nov 4th: Salt Lake City VMUG UserCon - Hilton SLC in Salt Lake City, UT
Nov 5th: SoCal VMUG UserCon - Long Beach Convention Center in Long Beach, CA
Nov 10th: Nashville VMUG UserCon - Music City Center in Nashville, TN
Nov 12th: Cincinnati VMUG UserCon - Duke Energy Center in Cincinnati, OH
November 18th: CCS Media Future Thinking Expo 2015, Business Design Centre, London, UK
November 19th: UK VMUG UserCon, National Motorcycle Museum, West Midlands, UK
Dec 1st: - CETPA (California Educational Technology Professionals Association) in San Diego, CA
Those who weren't able to attend VMworld 2015 will again have the opportunity to test drive the incredibly powerful, 7800q Series in person as well as their all new, web-based Centralized Management Utility, giving IT professionals more power, flexibility and security than ever before over their Thin and Zero Client environment. If 10ZiG's remaining travel schedule isn't in your area, be sure to register for VMUG Virtual Event 3.0 to be held November 9, 2015.
"Meeting prospective customers and allowing them to demo our industry leading line of Thin and Zero Client computers is an invaluable experience for our company, additionally, we look forward to connecting with hundreds more online at VMUG Virtual Event 3.0," explained Andre Kreps, Marketing Specialist.
About 10ZiG Technology
10ZiG Thin Clients & Zero Clients are optimized for desktop virtualization and offer the latest VDI brokers preinstalled, with support for PCoIP, HDX, and RDP protocols to name a few. Combining the best of breed in security, high performance and flexibility, 10ZiG devices offer the complete desktop experience. Our goal is to take the complexity out of Desktop Virtualization by providing Thin Clients and Zero Clients with components that simplify implementation, improve management and enhance the user experience. Our Thin Clients and Zero Clients are available in a wide-range of hardware options including wireless devices, All-in-Ones and small form factor logic units. On the Thin Client your choices of OS are between PEAKos (Linux), Windows Embedded 7 or 8.
Media Contact:
Christine Holtz
Phoenix Marketing Associates
602-282-0202