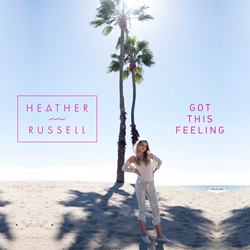 LOS ANGELES, CA (PRWEB) September 22, 2015
15-year-old Singer/Songwriter Heather Russell will release her debut music video for her self-penned debut single "Got This Feeling" exclusively on http://www.BOPandTigerBeat.com and http://www.youtube.com/TigerBeat on September 22nd 2015 at 5PM EST/2pm PST. The video is directed by YouTube star Tyler Ward (Twitter - @Tylerwardmusic) and stars Heather Russell and Vine Star Luke Korns (Twitter - @lukekorns). The single is taken from her debut EP "PHASES" (released on October 2nd, 2015).
About Heather Russell
Heather Russell is a 15-year-old singer songwriter from Toronto, Canada. Heather taught herself how to play piano and around age 8, she began posting videos of her performances on YouTube. It was there that she was discovered by media mogul Simon Cowell who signed her immediately to his label SYCO. The two worked together, honing Heather's talent until parting ways a few years later. In 2014, Heather and her family moved to Los Angeles, California, and she began recording her debut self penned EP "PHASES" (to be released in October 2015) with some of the industry's top producers. Some of the tracks were written when she was just 9 years old.
Heather Russell is Managed By Stiriling Mcilwaine of Pearl Group Entertainment (Chris Daughtry, Hansen, Jordin Sparks, Kris Allen) and Andy Gould of Spectacle Group (Rob Zombie).
http://www.HeatherRussellOfficial.com
http://www.youtube.com/HeatherRussellMusic
About Tiger Beat/BOP
Tiger Beat is the most iconic and influential teen entertainment magazine having been published since 1965 in the US. It is the number one print and online magazine for Teen girls with a reach of over 6m teens per month.
###
For More Information about Heather Russell Please contact:
Paul L
Phillip Christian Public Relations
paul(at)phillipchristoianpr(dot)com
(949) 379-0844