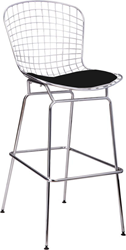 "[The mesh design] is mainly made of air, like a sculpture. Space passes right through them."
(PRWEB) September 23, 2015
EZ Mod Furniture's deals of the week has been updated. This week, the very popular Bertoia Barstool, the Two Curve Adjustable Barstools and the Louie Armless Chair are all chosen to be part of the weekly deals.
The Bertoia Barstool, which is made from a stainless steel metal, brings both modernity and simplicity to the table. Inspired by the great original design of Harry Bertoia, the mesh back is made from a polished steel wire. The focus of environment rather than the piece itself is what the aim of each creation was. And just as Bertoia had originally implemented his masterpiece, the mesh wire back of the chair is like it is "mainly made of air, like a sculpture. Space passes right through them." The point of its creation is to compliment the environment around it, rather than define it. The hand carved mesh back as well as the sturdy, chrome legs of the barstool consume many hours of labor for someone to perfect. Only the very skilled seem to tackle unique pieces such as these. The seating pads come in red, black and white.
Another deal this week at EZ Mod is the Curve Adjustable Barstools, which come in pairs. Again, this very unique piece is known for its shape. It is backless, yet the support is uncanny because of both the leatherette seat and elongated leg support that continues on through the upper part of the leg. It possesses a base that is almost two feet long in length. Because of this, the Curve Barstool is best known for conserving space with maximum usage.
Last but not least, the uniquely constructed Louie Armless Chair is both utilized as a piece of furniture as well as an artistic statement piece. It is a timeless masterpiece, inspired by the French King Louis the XVI and the neoclassical style of France. It is known for the graceful carved turns and the fluted legs. With such a great history, the acrylic Louie Armless Chair is all of this and more with the modern twist it brings to this elegant piece. It comes in wonderfully modern colors; black, clear, ivory and smoke.