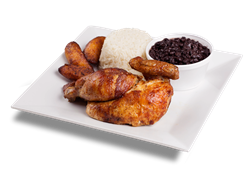 Miami, FL (PRWEB) September 22, 2015
La Granja has always cooked their chicken a special way, using their own unique recipes to make their "Pollo a la Brasa", or Peruvian Grilled Chicken. And with so many satisfied customers, La Granja Restaurants now has over 40 locations such as in Miami Florida.
La Granja just redesigned the website which displays the different Peruvian dishes such as their Seafood Sampler, 1/2 lb Grilled Steak, 1/4 lb Chicken, and Boneless Breast Special. If the craving for Peruvian food arises, one can use the Locations feature on http://lagranjarestaurants.com to search for a La Granja in their area. They can type in their zip code, pull up the restaurant nearby by clicking on the location on their mobile phone, and they can use the Direct Call feature to call ahead to the restaurant if they need additional directions or call ahead for takeout.
Pollo a la Brasa and the History of La Granja Restaurants:
The definition for Pollo a la Brasa, according to Wikipedia, is "Pollo a la Brasa, also known as Peruvian chicken or Blackened chicken in the United States and Charcoal Chicken in Australia, is a common dish of Peruvian cuisine and one of the most consumed in Peru." It is the Peruvian version of a rotisserie chicken, specially cooked and seasoned.
La Granja Restaurants use their own unique recipe for preparing their delicious and flavorful Pollo a la Brasa. Their menu offers the whole, half or quarter chicken combined with rice and beans, or boneless chicken breast with rice and beans, or chicken wings with fries. The restaurants also offer beef, pork and seafood dishes and sandwiches, all prepared in their unique Peruvian style. All meals are prepared fresh and are very affordable.
The Bartra family, who established their first La Granja restaurant in 1993 on the island of Aruba, have expanded into 9 franchises in South Florida, all offering the same delicious cuisine. They have won numerous awards and recognitions and they have been featured in newspapers and appeared on TV shows. The Bartra brothers attribute their success to "great teamwork, great customer service, positive attitude and hard work."
La Granja also supports the South Florida community by partnering with grass roots youth organizations like ASPIRA, honoring veterans, and offering scholarships to Florida residents of Hispanic and Latino descent to Palm Beach Community College.
ENDS
For further information, please contact:
La Granja Corporate Office
3907 NW 49th Street Tamarac, Fl 33309
Phone: (954) 968-7988
info(at)lagranjarestaurants(dot)com
http://lagranjarestaurants.com/