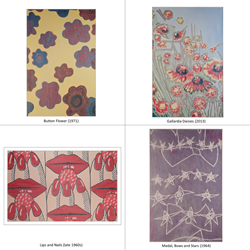 "...the CG showroom brings my art to gorgeous, elegant living room surroundings and reflect my passionate belief that art is to be lived with, not just stay in museums." - Dame Zandra Rhodes
New York (PRWEB) September 22, 2015
Iconic textile and fashion designer Dame Zandra Rhodes, DBE RDI, and André Leon Talley, contributing editor and former Editor-at-Large for American Vogue, will discuss the creative process, inspiration, their careers, and the profound influence the legendary Diana Vreeland had on them during a private and intimate event on October 1, 2015 at Christopher Guy's magnificent New York Showroom.
Dame Zandra will also unveil four bespoke textile prints to be sold exclusively through Christopher Guy:

15% of the proceeds of Dame Zandra's wall art sold at the event will be donated to The Boys and Girls Club of America.
Event host Christopher Guy Harrison, founder of luxury brand Christopher Guy, said: "It is a great privilege to have two of the world's most celebrated fashion icons come together at our New York Showroom. Zandra is truly unique and a pioneer in her field, and we are proud to have her wall art sold through our showrooms."
"Christopher Guy, being a visionary, told me I should do wall art with my beautiful textiles," said Dame Zandra Rhodes. "He considers my work as more than textile and fashion, and thought I had a lot more to offer to the world of interiors. These art pieces fit in with the beauty of the Christopher Guy interior image, and the CG showroom brings my art to gorgeous, elegant living room surroundings and reflect my passionate belief that art is to be lived with, not just stay in museums."
Dame Zandra is available for interviews during a Media Day on September 30 at Christopher Guy's New York Showroom. To request an interview, please contact cgpr(at)brandamb(dot)com or +1 (323) 332-9520.
To request an invitation to the October 1, 2015 event "Fashion Is Art," please contact Ms. Birgit Muller, at birgit.muller(at)christopherguy(dot)com.