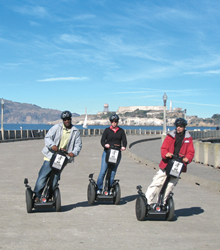 With over 2400 guest reviews we are proud to be ranked in the top 10 tours in the United States. Thanks to all of our guests for gliding on a Segway Tour of San Francisco.
San Francisco, CA (PRWEB) September 23, 2015
The Electric Tour Company Segway Tours in San Francisco was recently ranked as # 8 of the "Top 10 Tours" in the United States by TripAdvisor.
"Our tour guides work very hard to create a memorable and fun experience and that hard work has paid off with this Top 10 recognition." said Brian Huber - founder of the Electric Tour Company.
The Electric Tour Company offers guided Segway Tours starting from two locations in Fisherman's Wharf or in the heart of Golden Gate Park. Opening in 2004, they were the first company in San Francisco to offer eco-friendly Segway tours and expanded in 2011 as the exclusive Golden Gate Park Segway Tour operator. In addition to fully narrated tours the company offers private group tours and a new team building scavenger hunt.
"Receiving the Top 10 Tours in the U.S. designation is an amazing milestone" said Huber who went on to say "We would like to thank all of our guests for choosing a guided Segway Tour during their San Francisco visit."
All of the Segway tours focus on on fun rider training and guest safety with tour guides that are high energy and entertaining. The tour routes offer beautiful vistas, famous hills and a wealth of history make for an amazing San Francisco segway tour experience. Tours cover the famous Fisherman's Wharf or hidden areas of Golden Gate Park during the day and Little Italy and the back alleys of Chinatown in the evening.
From The TripAdvisor Press Release:
#8. Electric Tour Company Segway Tours, San Francisco, California (2,377 reviews, 5 out of 5 bubbles on TripAdvisor)
In the City by the Bay, intrepid tour-goers ride on self-balancing Segway vehicles to visit San Francisco's popular neighborhoods and attractions, including Fisherman's Wharf and Golden Gate Park. Even more adventurous motorists can take on the advanced hills and challenging hairpin turns of the famous Lombard Street. Before setting off, new riders are brought up to speed with a 45 minute training session.
"We saw so much of the city with minimal effort going up and down the hills – definitely the best way to see the sights! Segways are so easy to ride and going on the roads felt safe," commented a TripAdvisor reviewer.
TripAdvisor®, the world's largest travel site*, today announced the top 10 tours across the U.S., based on the quality and quantity of reviews and opinions from millions of TripAdvisor travelers. TripAdvisor specifically identified single-day, guided tour excursions to one or multiple points of interest that provide education and entertainment. Highlighted tours range from rides alongside wild horses and alligators, to making history come alive through visits to stunning skyscrapers and ancient cliff dwellings.
TripAdvisor Press Release: TripAdvisor Shines a Spotlight on the Top 10 Tours in the U.S. http://www.tripadvisor.com/PressCenter-i7373-c1-Press_Releases.html
More about San Francisco Electric Tour Company and the three company locations:
http://ElectricTourCompany.com
http://GoldenGateParkSegwayTours.com
http://Private-Segway-Tours.com
Follow on Instagram and Twitter: #sfsegway @sfsegway