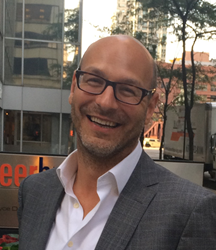 The entire 2-day schedule for 2015's Digital Dialogue in Cincinnati is now publicly available with a wide range of customer-focused digital marketing sessions available to inform and inspire marketers from every industry.
Cincinnati, Ohio (PRWEB) September 23, 2015
The entire two-day schedule for 2015's Digital Dialogue in Cincinnati is now publicly available with a wide range of customer-focused digital marketing sessions available to inform and inspire marketers from every industry.
Here's what to expect this year from our list of inimitable keynoters:
On October 13 over breakfast at the Hyatt Regency, kicking off two mind-blowing days, Steve Ahlberg, Vice President of Gannett Digital's New Product Division in Washington, DC, "Beacons of Brand Connection that's Sooner Than You Think," explores the realm of the seemingly impossible with emerging technologies and products that exist only in our brave new ecosystem.
Our lunch keynoter is Megan Moore, Director of Consumer Insights, Deep Focus in NYC. In "A Brief History of Human Communications," she will treat us to the latest insights from one of the hottest digital agencies on the planet. An agency born out of the digital/social media sphere, Deep Focus now operates across the globe in all media formats. Using their ongoing 20 year ethnographic study on consumer culture, they create killer creative that connects with the hearts, minds, and culture of consumers' fast-paced lives. Current clients from YouTube to Nespresso sing their praises.
That afternoon, Louis Slotkin, EVP, Leo Burnett Chicago, intrigues with "Crash My Party – How to market in a world where participation is open to everyone" sharing the fundamental ideas in attention-grabbing campaigns that get people to not just think something, but do something. He'll share some of his team's remarkable digital work, integrated with other media for clients including McDonald's, and Cincinnati's Fifth/Third Bank. Bet you didn't know that the agency famous for P&G's #likeagirl has other amazing Cincinnati-based initiatives going on! The 5/3 "Retweet for Re-employment" was designed specifically to save 5/3 customers from foreclosure. And there's the magical Millennial job-finding campaign, plus 5/3's #howIfight donations to Stand Up To Cancer.
At breakfast on Wednesday, we'll enjoy a dialogue between recent CLIO award winners Eric Mower Associates, in Syracuse, NY, and their client Domtar. They will discuss disruptive marketing, and how they are keeping paper relevant in an increasingly digital world. Their mobile app "Project Learning Curve", part of their "PAPERbecause" campaign, launched at SXSW, is making great things happen in all kinds of media because, as they say in their advertising, paper is a sustainable, renewable, recyclable, plant-based product that connects us in so many ways to the important things in life.
And finally, at Wednesday's luncheon, Paula Froelich, Editor-In-Chief at Yahoo! Travel, "Storytelling that Really Works." Perhaps best known for her video blog, A Broad Abroad, Paula's unique vision has turned Yahoo! Travel into a must-read destination for anyone interested in being inspired, entertained, and motivated to engage the world and suck the marrow out of life. In 2015, Yahoo! Travel won a Gold Prize from the North American Travel Journalists Association (NATJA) for excellence in travel journalism. At that luncheon, we'll be joined by the Cincinnati chapter of the Society for Professional Journalists, as we recognize the blurring lines between journalism and content marketing and help to define the differences.
AAF Cincinnati expresses thanks to a still-growing list of outstanding sponsors – now including Silver sponsor Enquirer Media, Bronze sponsors Xavier University, Big Media, LEAP and the Goodway Group, Contributing sponsor CoStrategix, and Supporting sponsors, 84.51°, Nielsen Catalina Solutions, Bootcamp Digital, and REDI Cincinnati.
According to co-chairs Sean Grace and Nicole Ball, "The lineup of local and regional breakout speakers is extraordinary. Based on feedback from last year's event, we've reached out to many who have never spoken at Digital Dialogue in the conference's first seven years. So, while you may see a few familiar faces on panels or even moderating, most of the news making presentations are all new and documented as exploring original ideas and new digital approaches."
Exploring how to leverage technology to connect and deepen relationships with customers, the Digital Dialogue has come a long way in its eight years. The event is presented by AAF Cincinnati, the local affiliate of the nation's oldest advertising trade association. This year, for the first time, the Cincinnati USA Regional Chamber has stepped up to co-produce the event. AAF Cincinnati members, members of other American Advertising Federation chapters, and members of the Cincinnati USA Regional Chamber will get the lower member rate.
To register for D² Digital Dialogue, or for more information on still-available sponsor packages, visit http://d2cincinnati.com. For the latest news (including the "Tinder-like" networking app from CoStrategix and event pre-party presented by Bootcamp Digital), follow on Twitter @D2Cincinnati and tweet using #D2Cincy.