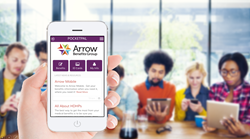 Petaluma, CA (PRWEB) September 22, 2015
Arrow Benefits Group announces their newest advancement, the Arrow Mobile App. This groundbreaking benefits education tool features leading-edge technology that allows clients' employees to access information regarding their benefits anytime, anyplace. The difference with this fresh technology is that it is backed and enhanced by Arrow's experienced team of experts with a human contact on the other end and years of industry knowledge and hands-on customer service. As the first in the North Bay to offer this technology, Arrow continues to push forward and break new ground within the industry. This app empowers clients and covered employees with more ways to take advantage of their benefits and avoid financial and usage losses from benefit packages. Download App Free Here and visit http://www.Arrowbenefitsgroup.com or call direct 707-992-3789 for more information.
Too often employers pay for benefits that employees don't know they have, so unfortunately they've never take advantage of. Andrew McNeil, who heads up the project, explains. "With the release of the app, now employees will have instant access to information about all of their available benefits. The industry needs to embrace technology. There are inefficiencies when it comes to benefits implementation, administration and communication that we are hoping to help alleviate in an easy to browse platform." Highlights include:
Mobile App:
● Easy access to benefit details, and information about the user's personal doctor, hospital and pharmacy all in one place
● Keep track of prescriptions and keep notes
● Messaging center allows employers to communicate with employees
● Store ID cards in one place
● An efficient way to share SPDs and SBCs to maintain legal compliance
Web-Portal:
● Compare benefit plans with a plan comparison tool
● Provides more robust benefit details
● Online Enrollment System
● Automatically syncs with mobile app
Arrow Mobile makes information accessible, while educating and engaging employees and their dependents. This informative tool will provide employers with better value, as employees will be more likely to understand--and use-- their benefits. As one of the largest HR and benefits companies in the North Bay, Arrow holds the industry standard for highly personalized service, providing the human touch needed to back-up this new mobile offering. The app promises to be more than just technology; it's a tool with a voice and support on the other end, and one more enhancement of their lineup of services, making navigating benefits and compliance simpler. Known for their personal touch, this app will be one more facet of Arrow's renowned dedication to service.
About Arrow Benefits Group
Arrow Benefits Group, the 3rd largest HR/benefits Company in the North Bay, is located north of San Francisco. We are a proud partner of United Benefit Advisors (UBA), one of the largest benefits consulting and brokerage firms in the country. With more than 200 UBA offices throughout North America and the United Kingdom, we offer global reach with local support. Arrow Benefits Group is your single-source solution for managing the complexities of benefits with expert advice, customized programs, and personalized HR solutions. Our innovative programs contribute true value to your company, helping you control costs and giving your employees a greater sense of financial and emotional security. We are more than benefits, we are The Human Resource. For straight answers to employee benefits or HR questions, call 707.992.3780 or visit http://www.arrowbenefitsgroup.com.
###