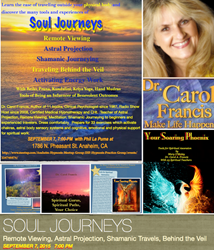 Throw out beliefs about any limitations of your mind, body and soul and instead experiment with Astral Projection, Remote Viewing, and Shamanic Journeying to some amazing places.
Redondo Beach, CA (PRWEB) September 28, 2015
The Path in Redondo Beach presents Dr. Carol Francis' workshop: Soul Journeys-Astral Projection, Remote Viewing, Shamanic Journeys, Energy Body Travels on October 10, 2015, 3-6 PM. Dress comfortably and prepare for over 33 exercises which activate these powerful skills. To participate in this very active workshop, call (310) 540-3030 at The Path or come to  800 Torrance Blvd #102, Redondo Beach, CA 90277. Pre-registration is also available through Dr. Carol Francis at drcarolfrancis.com and 310-543-1824.
About this Dynamic, Life-Changing Workshop with Dr. Carol Francis: 
This rich and densely packed workshop begins with initiation work. This phase combines flows of sound and vibrational work (crystal bowls, vocalization, Tibetan movements, and Kriya Yoga breathing techniques). These experiences then lead to in-depth meditative soul journeys associated with the third eye, remote viewing, and astral body experiences. Next, the group moves from the astral body experiences into personal and group dialogues with spirit guides. (Spiritual guides have varied per group and per individual ranging from angels, animal guides and passed-over relatives. At times, Channeling is used alongside mediumship.)
Healing-energies accompany the entire session, woven into the process. This healing-energy work includes Heart Chakra Activation, medical intuitive processes, Merkaba Activation, Metatron Sacred Geometry energies, Light Body Activation, and Reiki (Usui, Stein and Karuna Systems). Psychological tools include hypnotherapy, Positive Psychology, Jungian Transpersonal Analysis, HeartMath physiological tools and brainwave training tools. Divination readings occur next in the workshop using tools on Dr. Francis' Synchronicity Boards, which participants learn to create. These readings use a combination of Runes, I Ching, Tarot, Archetypal Cards, and Crystals (etc). As the workshop comes to an end, scientific research is briefly discussed to integrate metaphysical experiences with scientific discoveries currently available.
Clearly, this workshop is densely, active, and combines many traditions, tools, and scientific research so that participants experience many ways to connect to their metaphysical equipment.
Dr. Carol Francis is committed to helping individuals actively use their higher capacities to live very effectively using various spiritual tools fluidly and simultaneously.
About The Path
The Path is located at  800 Torrance Blvd #102, Redondo Beach, CA 90277 in the center of the Beach Cities, South Bay Area of Los Angeles, Ca. Calendar of events and workshops are available at ThePathCenter.com or through (310) 540-3030. This inviting setting offers books, crystals, stones, jewelry, statuary, meditation rooms, psychic readers appointments and healers' rooms offering alternative approaches to health as well as seminars and workshops such as Dr. Carol Francis' workshop- Soul Journeys-Astral Projection, Remote Viewing, Shamanic Journeys, Energy Body Travels on October 10, 2015, 3-6 PM at The Path.
About Dr. Carol Francis 
As a Clinical Psychologist, Marriage, Family & Child Therapist, Certified Medical Hypnotherapist and Reiki Master, Practitioner of Astral Projection, Remote Viewing, Shamanic Tools and researcher of spiritual or nonphysical psychological phenomenon for 4 decades, Dr. Carol Francis weaves empirical research in various fields of psychology, neurology, and biology with many spiritual and western life-enhancing tools. This workshop reflects a portion of her research which is also presented in her books Your Soaring Phoenix and Spiritual Paths, Spiritual Gurus, Your Choice.
Dr. Carol Francis presents this workshop throughout the nation combining her Shamanic work (trained in Peru and elsewhere), with Remote Viewing, Astral Projection, Channeling, Light Body Activation, Heart Center Expansion Healing Work, Brainwave Entrainment, Reiki, Vibration/Movement/Sound Work, Kriya Yoga, comprehensive Divination/Synchronicity work and, of course, her 38 years of work as a mainstream, western psychotherapist and Clinical Psychologist and scientific researcher into metaphysical phenomenon combined with Neuropsychology.
Dr. Carol Francis has authored 11 books, 3 of which reveal multi-layers of metaphysical tools which evolve individuals and their daily multi-layered materialistic/metaphysical existence. Other books by Dr. Carol Francis discuss child development, parenting, trauma recovery, habit relief, women's issues, importance of love, anxiety and depression, abuse in relationships, and how to be a happy couple.
Dr. Carol Francis Talk Radio enjoys hundreds of thousands of listeners, features scientists, health professionals, metaphysical explorers, and political activists. Dr. Carol Francis also interviews experts of Psychology, Remote Viewing, Astral Projection, Meditation, and Psychic Phenomenon. Such are podcasted at BlogTalkRadio.com/dr-carol-francis.    Dr. Carol Francis has also provided instruction on Astral Projection Techniques on YouTube: Spiritual Journey Tools. Traditional psychotherapies are also provided by Dr. Carol Francis in the Los Angeles area and she can be reach at DrCarolFrancis.com.