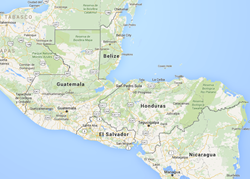 San Pedro Sula has the unenviable reputation as the murder capital of the world.
Bellevue, WA (PRWEB) September 23, 2015
AS Solution, one of the world's premiere providers of executive protection (EP) for major corporations and high net worth families, has just opened a branch in San Pedro Sula, the most violent city in Honduras, the country with the world's highest murder rate.
The new branch, a wholly owned subsidiary of AS Solution, employs 40 full-time employees and will provide security for AS Solution's growing list of corporate clients who require safe travel logistics and personal protection – also in Honduras.
"San Pedro Sula is not an easy city to do business in," explains Christian West, founder and CEO of AS Solution. "By any standard, even the extreme norms of Latin America, it is a dangerous place that requires exceptional caution in order to stay safe. But because we have been here for years and have clients that live and work here, we have a clear understanding of the challenges that come with the territory. Our combination of local knowhow, not least due to the strong Honduran team we have assembled here, coupled with our rigorous protection protocols developed internationally, put us in a unique position to keep our clients safe, happy and productive – also in San Pedro Sula."
Prior to opening the branch, AS Solution embarked on an extensive professionalization program for the Honduran nationals who will take part on the team. The developmental regimen encompasses thorough background vetting, third-party polygraph tests, certification in security driving and first-aid, language training and more.
According to West, the opening of the new branch is in line with AS Solution's strategy to go where its clients need to go. "Corporate executive protection is becoming increasingly international," says West. "Our corporate and high net worth clients require the highest levels of secure logistics and personal protection, and we are prepared to deliver these services wherever their business or passions take them."
San Pedro Sula has the unenviable reputation as the unofficial murder capital of the world. Located in the northwestern corner of Honduras near the Guatemalan border, the city is plagued by drug and arms trafficking and significant gang violence. The city's murder rate in 2013, 187 per 100,000 inhabitants, was the highest in the world.
For more information on AS Solution, please contact Kelly Brevik, kes(at)assolution(dot)com, telephone +1 (425) 296-3017, ext 100.
AS Solution provides a full spectrum of corporate and personal security services that includes executive protection, secure transportation, event security, estate security, anti-piracy security, embedded security as well as security training and consulting. Clients include major corporations, NGOs and high net worth individuals and families in the US, Europe, Asia and Africa. For more information, see http://www.assolution.com.