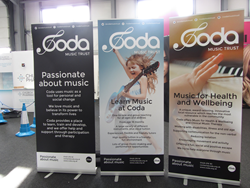 Poole, Dorset (PRWEB UK) 22 September 2015
Devising and delivering a series of inspirational musical programmes and activities across Dorset and Hampshire, the Coda Music Trust is the only music centre of its kind in the region, and provides a range of music opportunities to people of all ages and abilities.
Founded in 1996, the Coda Music Trust moved to its current home, a converted Victorian Farm in Christchurch, in 2005. Over the years, the organisation has helped tens of thousands of people across the counties, as well as giving children of all backgrounds the chance to learn a wide variety of musical instruments.
With a team of professional teachers, and generous volunteers, Coda is able to provide not only instrumental lessons, but also music therapy sessions for children, young people, and adults, with a wide range of disabilities, which aim to make a difference to participants' emotional, physical, and mental health and well-being, through the medium of music.
With no core revenue from grant funding, the Coda Music Trust is reliant upon fundraising campaigns, fee-paying students, and donations.
Dorset-based exhibition stand specialists, Quadrant2Design, have recently donated five new banners to the charity, to help aid with both awareness and fundraising for the organisation.
The lightweight, portable banners depict a series of bright, beautiful images, and text, each relating to a different programme offered by the organisation. Already they have been put to good use, at the Coda Music Trust Open Day, and the banners will carry on being used at a huge variety of events across the country, in the future.
To discover more about the Coda Music Trust, to get involved, or to make a donation, visit http://www.coda.org.uk, tweet @codamusictrust, and like http://www.facebook.com/codamusictrust.
For more information about Quadrant2Design, contact designteam@quadrant2design.com or call 01202 723 500.