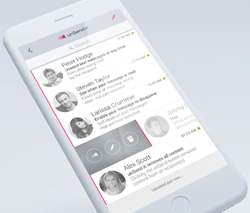 Hunt Valley, Maryland (PRWEB) September 22, 2015
In the coming weeks, Unsend It, LLC is launching the world's first app allowing users to unsend or edit text messages and emails at ANY time (even after being read/opened by the recipient). The 'Unsend It' app will be available for both iOS & Android mobile devices.
Managing Partner, Greg Dash, says: "Everyone's needed an unsend button at some point. From autocorrect failures and typos to sending a message or file to the wrong recipient...and of course, drunk texting. The 'Unsend It' app will allow you to remove your sent message content from your recipient(s) device – even if the recipient doesn't have the app."
Columnist Kimberly Wang recently wrote about the importance of our upcoming technology in an editorial: "This App Will Save Your Life"
There is a worldwide demand for this app, as depicted on Twitter. "While our target demographic is literally anyone with a smartphone, we plan to strategically market the mobile app to men and women between the ages of 16 and 35."
Unsend It, LLC is raising $750,000 in seed funding prior to launching both iOS & Android versions of the app.
Interested investors, please contact unsendit(at)gmail(dot)com for questions and access to our pitch deck.