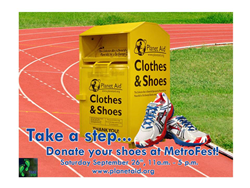 Framingham, MA (PRWEB) September 24, 2015
The Planet Aid team will be at MetroFest this Saturday, September 26th from 11am- 5pm reminding the public to TAKE a STEP and donate!
We will be collecting used footwear and talking about the importance of recycling textiles at MetroFest. Yes, we are accepting clothes too!
Keeping old shoes out of landfills by donating them to Planet Aid is good for the environment and benefits people living in poverty in Africa, Asia, and the Americas. Planet Aid will also be donating a portion of the money raised at MetroFest to the MetroWest Visitors Bureau, a regional tourism council working not only to attract travelers to the area, but to guide local residents looking for a service, family activity, fantastic meal, cultural experience, getaway, and more.
Stop by the Planet Aid booth at MetroFest to receive a free gift and coupons from True Runner & Clark Shoes while supplies last! Please be sure to bring lots of used sneakers and shoes of any kind. Let's make this the biggest used shoe donation ever!
*FOUR Planet Aid boxes will be present at MetroFest, including one at each entrance to Bowditch Field and two others in event parking lots at the McCarthy School (8 Flagg Drive), Framingham and WSRO Radio (100 Mt. Wayte Avenue, Framingham), where shuttles buses will be picking up attendees. Visit http://www.metrowestvisitors.org/metrofest for more information.
Planet Aid is a nonprofit organization whose mission is to inform, mobilize, and inspire individuals and communities to work together to bring about worldwide environmental and social progress. Incorporated under the laws of Massachusetts and recognized as a tax-exempt charity under IRS code 501(c)(3), Planet Aid is registered with the U.S. Agency for International Development as a private voluntary organization (PVO). For more information on Planet Aid, visit Planetaid.org.