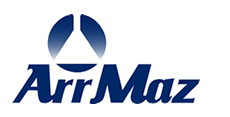 Mulberry, Florida (PRWEB) September 23, 2015
ArrMaz and Superior Silica Sands (SSS), part of Emerge Energy Services LP, have agreed to install the first SandTec application system in SSS' Barron, Wisconsin facility. The installation is expected to be completed in December 2015 and is a major step in providing the oil and gas industry with access to this new and innovative technology. This will enable the efficient delivery of large volumes of proppant coated with SandTec to hydraulic fracturing sites and transload facilities.
"The team at Superior has a visionary approach to the industry," said John Suldickas, Oil and Gas Commercial Manager at ArrMaz. "Working with them will allow us to provide the industry with a valuable tool to lower silica dust levels at all transfer points and increase operational safety."
Silica dust control is an ongoing concern in the hydraulic fracturing industry. The SandTec coating technology offers an attractive alternative to mechanical dust control systems. It provides superb dust control performance, is frac fluid compatible, is environmentally friendly and does not require the expense of equipment mobilization and demobilization. This allows for smaller operational footprints at frac sites as well.
Superior Silica Sands will begin offering SandGuard proppant utilizing SandTec coating technology to its customers in December. "We (SSS) are excited about incorporating the SandTec technology and ArrMaz's understanding of material safety handling for our company and industry. Their knowledge in dust mitigation is important to SSS as we focus on helping our customers create a better well with the focus of a safer work place at the well site," said Justin Renfro VP of Sales and Marketing at SSS. "Our partnership with ArrMaz is one that we see as a compliment to an already strong position in the frac sand industry."
SandTec is one of many innovative technologies developed by ArrMaz designed to help its customers in multiple industries enhance the efficiency of their operations and to improve the quality and value of their products.
---
About ArrMaz
Since 1967, ArrMaz has grown to become the global leader in producing advanced performance process aids and functional additives for fertilizer, industrial minerals, coating technologies, asphalt and ammonium nitrate production. ArrMaz remains dedicated to being a trusted partner in improving your performance through customized solutions, expert technical and customer support and superb responsiveness. Headquartered in Mulberry, Florida, ArrMaz's dedicated employees in North America, South America, Europe, the Middle East and Asia serve customers doing business in over 70 countries.
For more information about our company and products, please visit us online at http://www.ArrMaz.com.
---
About Emerge Energy Services LP
Emerge Energy Services LP (NYSE: EMES) is a growth-oriented limited partnership engaged in the businesses of mining, producing and distributing silica sand, a key input for the hydraulic fracturing of oil and gas wells. Emerge Energy also processes transmix, distributes refined motor fuels and biodiesel, operates bulk motor fuel storage terminals and provides complementary services.
MEDIA CONTACT
ArrMaz
Chris Day
cday(at)arrmaz(dot)com
Emerge Energy
Jody Tusa
817-865-2541
Superior Silica Sands
Justin Renfro
214-755-5556