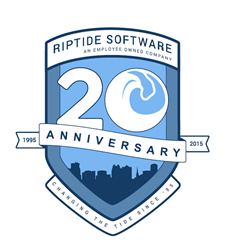 We couldn't have achieved this goal without each other, an amazing sense of teamwork, and our obsession for customer satisfaction. Here's to 20 more! -- Philip Loeffel
Orlando, Florida (PRWEB) September 23, 2015
During the month of September, Riptide Software will be celebrating its 20th year in business. To commemorate our 20th anniversary, Riptide Software created a special 20th anniversary badge to serve as a testament to the hard work of Riptide Software employees.
What started as a big idea in a small home garage turned into a multi-million dollar company that serves military, cloud technology, and eLearning industries. The success of Riptide Software was due in part to Riptide CEO Philip Loeffel, evangelizing leading edge technology married with a strong customer focus enabling Riptide's customers to reach their goals. "Many of our customers required capabilities that just weren't in the marketplace at the time. By providing a flexible development team with the right expertise in leading technologies, we were able to work closely with our customers to develop the right solution," Loeffel said.
Riptide Software did not stop there either, Loeffel put an emphasis on quality process and drove Riptide to become one of only 9 US companies to achieve CMMI Level 4. In addition, Riptide was the first to implement J2EE technology for the space program and supported the waiver of real time system restrictions on JAVA. By 2001 Riptide made the Deloitte & Touche Fast 50 list of high growth technology companies and gained the same distinction for two additional years. Riptide's employee owned, technology led, company has also been acknowledged for our leadership with such recognition as: a 2015 ACG SMART award winner, MT2 Top Simulation & Training Company, and a leader in cloud technology and innovation with a solid process base that guarantees quality and on time delivery.
Loeffel added, "It's no easy feat for a software company to constantly evolve with today's rapidly changing technology and make it 20 years in business. It takes a great team of people working long nights with tight deadlines, a focus on customer satisfaction, and a true love of new technologies. Riptide's hard work has created great memories, learning experiences, and an glorious sense of accomplishment for everyone involved. We couldn't have achieved this goal without each other, an amazing sense of teamwork, and our obsession for customer satisfaction. Here's to 20 more!"
About Riptide Software
Riptide Software is an award-winning software company based in Central Florida. For nearly two decades, Riptide has developed innovative software architectures and cloud computing infrastructure to deliver high volume systems at low cost. Riptide's services include a wide array of services and products for various industries, including cloud computing and on-demand technologies, mobile and web development, enterprise application development, e-learning, Salesforce consulting, and much more.