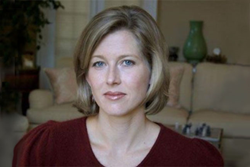 What will future generations say about us? That we kept up economic growth by buying a lot of stuff? Or that we sacrificed and worked to make a beautiful strong place and that we taught our children and grandchildren how to live well.
(PRWEB) September 24, 2015
On Thursday October 1 at 6pm in New York City, Carnegie Council for Ethics in International Affairs presents "A Conversation with Karenna Gore on Ethics and our Ecological Crisis." The event consists of a conversation with Al Jazeera's Stephanie Sy, followed by a question and answer session and then a wine reception.
Karenna Gore is director of the Center for Earth Ethics at Union Theological Seminary and the eldest daughter of former Vice President Al Gore, a longtime environmental activist. She is the author of "Lighting the Way: Nine Women Who Changed Modern America."
Stephanie Sy, an anchor at Al Jazeera America, will moderate the discussion.
DATE AND TIME: Thursday, October 1, at 6-7:30PM
ADDRESS: Carnegie Council, 170 East 64th Street, New York, NY 10065
REGISTRATION: RSVP required, seating limited. Please register for this event at: http://carnegiecouncil.eventbrite.com
Karenna Gore and Center for Earth Ethics see our ecological crisis as the consequence of a deeper malady: the dominant economic development agenda that results in the exploitation of people and nature for short-term and inequitable financial gain. So for real change to occur, a new paradigm based on the sustained well-being of all people and our planet must materialize.
How are Gore and the CEE working to make this happen? What is the role of spiritual, indigenous, and religious communities?
For those who can't attend in person, watch this event live at http://www.carnegiecouncil.org/live
Founded by Andrew Carnegie in 1914 and based in New York City, Carnegie Council for Ethics in International Affairs is an educational, nonprofit, nonpartisan organization that produces lectures, publications, and multimedia materials on the ethical challenges of living in a globalized world. Go to http://www.carnegiecouncil.org