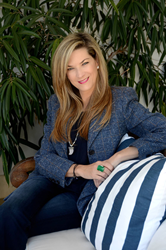 (PRWEB) September 22, 2015
Brigitte Nachtigall, a licensed real estate agent in the Key Biscayne, Florida, market, has joined the prestigious Haute Living Real Estate Network.
The Haute Living Real Estate Network (HLRN) of Hauteresidence.com is proud to recognize Brigitte Nachtigall as a prominent real estate professional and the network's newest partner. HLRN unites a distinguished collective of leading real estate agents and brokers, highlighting the most extravagant properties in leading markets around the globe for affluent buyers, sellers, and real estate enthusiasts.
About Brigitte Nachtigall:
"Little did I know that being an intern at a real estate office would lead to such a gratifying career." –– Brigitte
It was love at first sight when Brigitte Nachtigall was first immersed in the world of real estate. "It was my destiny," she says. After all, Brigitte was entering a profession that requires a set of skills that she definitely has. She had always loved the different aspects of marketing, public relations, interior design, and finance. However, what she treasures the most is the trust she has gained throughout the years of experience from her clients, who are more like, as Nachtigall says, "friends from all walks of life."
Brigitte's profession has evolved and has been shaped in a way that encompasses every aspect of real estate–from relating to clients in their native languages to having the ability to be five minutes away and help them get comfortable in Miami to guiding them with school issues, doctors, and other needs a family may require.
"My clients are my number one priority and I believe in giving them the best service possible," she says. "A client dictates the schedule, not the other way around!" It is a rule that she lives by and it is why she has been able to provide a service that is unparalleled.
Unlike other realtors, Brigitte works and specializes on Key Biscayne in Florida. There are rare occasions when a prospective client wishes to look elsewhere.
One cannot operate in every village, town, and city of South Florida and serve the client professionally no matter how big the firm is. Brigitte chose to focus on Key Biscayne as she knows the island paradise well. After all, this is where she grew up. It is her home and where she and her family live today. Brigitte is married to Mike Aixala, owner and president of Interscope Contractors. "Mike has built approximately 160 homes on Key Biscayne," she says proudly. "Having my husband as a builder is a huge asset in order to guide clients on issues of permitting, restrictions, and regulations to build and/or remodel homes."
Brigitte truly enjoys her job and has proven her abilities over the years. She worked for Ocean Club Development on Key Biscayne for over 7 years, then moved on to being the sales director for the "Four Seasons Residences" on Brickell for two years, preceding an extensive career in general real estate on Key Biscayne. With over 27 years of experience, Brigitte has secured her position as a successful realtor, a model citizen, and a philanthropist.
To learn more, visit Brigitte Nachtigall's Haute Residence profile: http://www.hauteresidence.com/member/brigitte-nachtigall
About Haute Living Real Estate Network (HLRN):
Haute Living Real Estate Network (HLRN) of Hauteresidence.com offers readers the most prominent directory of experienced realtors, brokers and luxury listings, and HLRN has grown to be the number one source for real estate news, residential developments, celebrity real estate news and more. Seeking an experienced interior designer? Hauteresidence.com is also home to Haute Design Network (HDN), a collective of celebrated interior designers that will help you decorate your new home or stage an active listing.
Access all of this information and more by visiting: http://www.hauteresidence.com