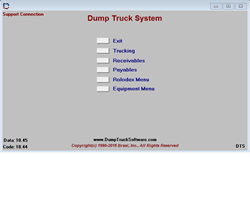 "I have been waiting 20 years for this program and it exceeds my dreams" Zena, XS West Trucking and Contracting, Vancouver Canada
San Diego, California (PRWEB) October 22, 2015
The Dump Truck System is available in basic and enhanced modules. Both modules contain: Equipment files, Repair Orders, Fuel Utilization, Employee files, Customer file, Independent Contractor (Subhaulers) files, Safety and Compliance tracking, Quoting, Dispatching, Invoicing, Accounts Receivables, Driver Revenue Statements, Pay Statements for Independent Contractors, Check Printing for Independent Contractors, 1099 processing, Pre Liens and more. The enhanced system adds in bank accounts and accounts payables for vendors.
Dump Truck System clients in Wisconsin now have the ability to enter State Projects and associate State Projects with customer jobs. State project reporting is available at the push of a button.
The ability to email dispatch directions to employee drivers and independent contractors saves a great deal of time when dispatching large numbers of trucks.
Users on the full version of the Dump Truck System will appreciate the new enhancement to have automatic deductions posted to checking accounts.
The Dump Truck System assists in tracking and reporting on International Fuel Tax Association (IFTA) requirements. The IFTA screen is composed of three information areas. The top portion identifies and accumulates amounts for a single trip sheet. The left side tracks mileage. The right side tracks fuel.
Screens and reports are available for companies that also have fence assets available for rent. Assets are tracked and invoiced.
The material Point of Sale screen quickly produces invoices for customers that will come to your yard to purchase materials or have materials delivered offsite.
No cost trial programs are available. Screens and reports are easily customized. The Dump Truck System resides inside client office buildings. The "cloud" is not used because customer information should never be compromised.