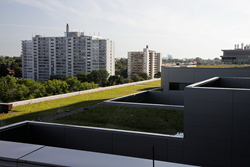 We know that providing natural views in a hospital can have a positive impact on healing for patients,
TORONTO, Ontario (PRWEB) September 23, 2015
When the Humber River Hospital opens its doors on October 18, the bar will be raised. North America's first fully digital hospital will be "lean, green and digital," according to Rueben Devlin, the President and CEO of Humber River. Three-quarters of in-hospital deliveries will be automated. The building will feature 100% fresh air. And it will have some of the finest medical technology available today.
"Humber River Hospital will continue its mission to provide high quality, safe care efficiently, delivered with respect and compassion, in a model hospital facility," said President and CEO Rueben Devlin. "Every aspect of the new hospital was designed based on the needs of patients and families, and bringing them in as full partners in the care experience."
One of the many impressive features in the new Humber River Hospital is the 13,192 square meters of green roofing, visible from a majority of the patient rooms and treatment areas of the hospital. Worldwide, it is the largest LiveRoof brand installation to date. By providing natural beauty and function, the green roof contributes to the new healthcare facility's overall focus on sustainability. A patented, subterranean modular system unites the soil and plants, creating an instantly beautiful and seamless rooftop meadow. The roofs provide aesthetic, environmental and social benefits. Beyond sustainability, green roofs provide a soothing, peaceful view for patients, staff and visitors, factors that have been shown to help improve patient outcomes.
With the Humber project committed to achieving for Leed® Silver certification, and tracking Leed® Gold, LiveRoof is an important component in the hospital's green strategy, along with a number of other sustainability features, including: Brownfield Redevelopment, Energy Efficiency, Construction waste recycling, Heat Island Reduction Strategies, Low VOC-Emitting Materials, Occupant Lighting Control, Storm water Management, and Water Use Reduction.
"We know that providing natural views in a hospital can have a positive impact on healing for patients," says Peter Hillen, owner of LiveRoof Ontario, Inc., the company which custom-grew the green roof system in Mount-Brydges. "By installing living roofs, Humber River Hospital provides these views while managing stormwater runoff, and demonstrating its overall commitment to environmental stewardship. We congratulate Humber River Hospital as it opens its doors to the community and continues its tradition of providing outstanding patient care."
HDR Inc. designed the new Humber River Hospital as part of the Plenary Healthcare Partnerships team that included PCL Construction (General Contractor), Quinn Design Associates of Toronto (Landscape Architect), and Flynn Canada (Green Roof Installer).
Other nearby LiveRoof brand projects include the Yorkdale Mall (installed 2012), where the currently under construction Nordstrom showroom will also feature a LiveRoof system in May of 2016. This fall, the Toronto Transit Commission's Sheppard West station will also be greened with LiveRoof modules.
Financial benefits can also be achieved from a vegetative roof including: extension of roof life, energy conservation, enhanced public relations, and conservation of municipal septic systems.
About LiveRoof® Global, LLC
LiveRoof Global, LLC (http://www.liveroof.com) is the horticultural science company that developed the LiveRoof® Hybrid System, whose natural function and natural beauty offer the highest level of green roof performance at the lowest level acquisition-installation-maturation-maintenance costs. Combining the best elements of proven green roof technologies, LiveRoof establishes a seamless vegetative surface rooted in a continuous layer of soil. This design maximizes environmental benefits, energy savings and rooftop aesthetics. Regional growers in its global network adapt LiveRoof plants for local conditions and customize plant selection for every project. The proof is on the roof showcased in LiveRoof projects that stand out as signature elements on commercial, public, university and school buildings throughout the globe.
Media Contact:
Amber Ponce
Business Development Manager
LiveRoof Global, LLC
616.935.1964
About LiveRoof Ontario Inc.
LiveRoof Ontario Inc. was created to grow and market the LiveRoof product for the Ontario construction industry. From humble beginnings with our first project delivery at London City Hall in 2007, we have embraced the quality of the product and the service behind it. LiveRoof Ontario now services a significant portion of the green roof market in Ontario with its innovative and horticulturally sound green roof systems. LiveRoof has been specified and installed on many durable buildings across the province, both on government and private projects. LiveRoof Ontario Inc. is the only company to have supplied multiple projects for the Toronto Transit Commission and Toronto Police Services. And LiveRoof was chosen to adorn the podium of Toronto City Hall. Learn more about this award-winning company by visiting our website: http://www.hillennursery.com/liveroof.php
Media Contact:
Kees Govers
519-671-5777
kees(at)liveroofontario.ca
About Humber River Regional Hospital
Humber River Hospital serves a catchment area of more than 850,000 people in the northwest Greater Toronto Area. The hospital currently operates on three sites with a total of 549 beds, 3,000 staff, approximately 600 physicians and 400 volunteers. Affiliated with the University of Toronto and Queen's University Medical Schools, the hospital is home to Ontario's first Centre of Excellence for laparoscopic bariatric surgery; Canada's first home nocturnal dialysis program and a major cancer program.
Humber River Hospital is currently commissioning its new hospital for opening day on October 18, 2015. North America's first fully digital hospital, it is a lean, green and digital showcase facility. Learn more about Humber's redevelopment at http://www.hrh.ca/redevelopment.
Media Contact:
Gerard Power
Director, Public and Corporate Communications
416-243-4448
gpower(at)hrh.ca