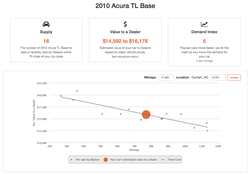 Durham, NC (PRWEB) September 24, 2015
Vehicle popularity may be a big factor for automotive retailers but communicating that information to consumers has historically been very complex. Most car valuation services don't represent or quantify market forces such as Supply or Demand. Instead, they skip straight to the value of the car and rely on brand trust for credibility. TradePending believes today's auto shopper and modern dealer need more.
TradePending CEO, Brice Englert notes, "Imagine the real estate industry without comps or market data. We'd all be blind as a bat and would enter any discussion or negotiation with massive trepidation. Essentially, that's been the automotive industry for 100 years".
SNAP by TradePending (launched in early 2015) is a simple plugin installed on any auto dealership website where visitors can gain access to SNAP Market Reports by selecting their vehicle and providing basic contact information. In only a few seconds, consumers can gain insight on market forces such as local Supply, Demand, and ultimately Value-to-a-Dealer for their vehicle. Demand was recently added to the SNAP Market Reports using average days on market to represent demand as a number between 1 and 10. This consumer-facing first enables greater information sharing between automotive retailers and their customers to improve the car buying process.
SNAP customer, Shannon Allen, Director of Business Development for the Haddad Automotive Group added - "We strive to provide a great customer experience and SNAP offers our shoppers simple answers to key questions about their car even before we go through a formal appraisal. We've seen great improvement in our website(s) conversion with SNAP but, most importantly, we are offering a market-based conversation with our customers about their vehicle and Demand can be an important factor in the trade-in conversation."
About TradePending
TradePending offers automotive dealers the most usable, flexible, and only transparent, local-market-based solution to answer one of the most important car-shoppers question, "What is my car worth?" SNAP increases organic conversion from a dealer's website and introduces real, comparative information to the automotive shopping process.
Media inquiries can be directed to info(at)tradepending(dot)com