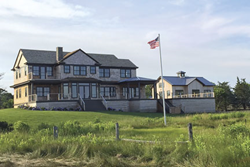 Franke is a leader of innovation in the decorative hardware and plumbing industry, so it made perfect sense to partner with them to support my desire to build a durable and sustainable home without compromising aesthetic appeal.
East Quogue, New York (PRWEB) September 23, 2015
Franke Kitchen Systems, the world's leading provider of intelligent systems for domestic kitchens, is co-sponsoring Sunset Green Home, a sustainable, energy-efficient, new-home construction project registered through the LEED® for Homes green building program, with the certification goal of LEED Platinum.
The birth of the Sunset Green Home project occurred after Kim Erle, LEED AP Homes, lost her 1940s beach cottage when Hurricane Sandy hit Southampton in 2012. Erle decided to rebuild her cottage using new innovations and green technologies for optimum resilience when the next storm inevitably strikes.
"We are proud to be part of the Sunset Green Home team's commitment to create an energy-efficient, durable and environmentally friendly home," says Brad Kiel, vice president, Franke Kitchen Systems Luxury Segment. "We know this team is already enduring the stress of completely rebuilding from the damage Hurricane Sandy caused. Now, they can have peace of mind because Franke's Complete Kitchen Systems provide optimal performance, while minimizing the hassles of sourcing from multiple suppliers."
Franke prides itself on being able to offer designers and consumers full kitchen systems that include several essential products designed for efficiency. Beyond sinks and faucets, the company offers a wealth of associated components — disposers and air switches; soap dispensers, grids, cutting boards and remote drain controls; and point-of-use filtration and hot- and cold-water systems. Kitchens installed with Franke's Complete Kitchen System showcase the perfect union of form, function and durability without compromising style. Sunset Green Home will use Franke Kitchen Systems in the kitchen, pool house and wet bar.
"We are thrilled to have Franke Kitchen Systems as part of rebuilding the coastal home of the future," says Kim Erle, LEED AP Homes. "Franke is a leader of innovation in the decorative hardware and plumbing industry, so it made perfect sense to partner with them to support my desire to build a durable and sustainable home without compromising aesthetic appeal."
A sampling of Franke products featured throughout the Sunset Green Home include:
Franke Planar 8 Kitchen Sink: Designed and hand-fabricated in Italy, the Planar 8 Kitchen Sink features a sleek, contemporary design to complement any modern kitchen décor. The Planar 8 Kitchen Sink is made from premium, Grade 304, 18-gauge stainless steel, equipped with sound-dampening pads and Franke's silky luster finish. Other key features include: maximized work and storage space, and a tight 8mm radius for easier cleaning.
The Franke Stainless Steel Faucet Series is 100 percent solid stainless steel in construction and finish, inside and out – containing no trace of brass or zinc, and therefore no lead. Designed to complement other stainless fixtures and appliances in a modern kitchen, the entire series is marked with a contemporary look that incorporates an arched spout and a flared base, as well as an ergonomically designed pin handle. Unlike ordinary carbon steel, stainless steel resists most forms of corrosion, including rust and staining, when exposed to air and water. This makes the material especially suitable for residential kitchens in coastal areas and other wet environments.
The Little Butler Series of dispensing systems provide fresh, filtered water on-demand and is available in three models: cold water only, hot water only, and a dual-handle model that delivers both hot and chilled water. The cold water is provided by the Little Butler Chiller, a compact, under-sink unit that measures 14-5/8 inches x 10-5/16 inches x 8-23/32 inches and operates with a flow rate of 0.5 gallons per minute.
For more information on Sunset Green Home, visit: http://www.sunsetgreenhome.com.
For hi-res images of the products shown in this release, please visit:
http://franke.oreilly-depalma.com/2015/sunset-green-home.shtml.
For editorial assistance, contact John O'Reilly or Jordan Zaplatosch at
O'Reilly DePalma; tel.: 815.469.9100; e-mail: john.oreilly(at)oreilly-depalma(dot)com or jordan.zaplatosch(at)oreilly-depalma(dot)com.
About Franke
Franke has established its position as the largest stainless steel kitchen sink manufacturer in the world and a leading name in kitchen faucets, hot- and cold-water filtration, undermount sinks and waste disposers. The Franke Group is a world-leading provider of solutions and equipment for domestic kitchens, washrooms, professional food service, coffee preparation and beverage delivery. The group has 72 subsidiaries with more than 9,000 employees in 37 countries and generates consolidated sales of CHF 2.1 billion. For more information, visit http://www.franke.com or call 1-800-626-5771.