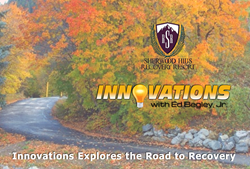 "Nothing beats the peaceful mountain setting as a place to begin the healing process.
Wellsville, UT (PRWEB) September 23, 2015
Sherwood Hills Recovery Resort announced today that it will be featured in an upcoming episode of Innovations, airing later this year 2015 via the Discovery Channel.
Sherwood Hills Recovery Resort is located on 706 pristine acres set beside a national wilderness area, dotted by lush gardens, placed amidst open green pastures, gently rolling hills and majestic mountains. This episode of Innovations will focus on how Sherwood Hills Recovery Resort is dedicated to the healing of those overcome by life-destroying addiction, and how peace, serenity, and privacy can help heal the body, mind, and spirit.
"I believe that other providers and society as a whole, are all wrong in how they treat those suffering from addiction." Said Tyler Geldmacher, Director of Admissions "It's not about oppression, medications, and hoping they can fit into society in the future, it's about embracing what is special about them and helping their potential to be amazing, come to fruition"
In addition to its amazing programs and surroundings, the segment will focus on the welcoming staff and dedicated treatment counselors at Sherwood Hills who help define the steps toward renewed freedom.
"Nothing beats the peaceful mountain setting as a place to begin the healing process. As one of the founders of Sherwood Hills Recovery, I can say that every effort was made to construct a facility that would address the root causes of addiction and cure them in the most practical, yet spiritual way," said Richard M Knapp.
"The proven three-step approach to full recovery, when administered by their expert staff, can heal even the most hard-core addiction," said Jake Meiteles, Producer for the Series. "We look forward to educating audiences on the amazing things Sherwood Hills is doing in hopes it will help bring those in need closer to recovery."
About Sherwood Hills Recovery:
The treatment center itself, a former luxury resort hotel, sits in the mountains of northern Utah with National Forest on all sides. Complete with all the amenities imaginable, the center has private and upgraded rooms, sauna, waterfall hot tub, indoor pool, game room, fitness center, a ten room spa with massage therapy included, and miles of hiking trails. A nine-hole golf course surrounds the facility.
Sherwood Hills Recovery focuses on providing cutting-edge, high-quality addiction treatment to their residents. Clinical services include cognitive behavioral therapies, EMDR, and BrainCore Nuero-Feedback Therapy, as well as other experiential therapies, trauma therapy, recreation therapy, and many more proven techniques designed to address addiction in a way that sends clients home to a new life, free of addiction. Sherwood Hills does not prescribe to the old adage "once an addict, always an addict" they believe their clients are free from addiction, once they hold the tools to stop their old habits and behaviors. For more information visit: http://www.SherwoodHillsRecoveryResort.com.
About Innovations and DMG Productions:
Innovations, hosted by award winning actor Ed Begley, Jr., is an information-based series geared toward educating the public on the latest breakthroughs in all areas of society. Featuring practical solutions and important issues facing consumers and professionals alike, Innovations focuses on cutting-edge advancements in everything from health and wellness to global business, renewable energy, and more.
DMG Productions (responsible for creating the Innovations show) includes personnel specialized in various fields from agriculture to medicine, independent films to regional news and more. Field producers work closely with experts in the field to develop stories. This powerful force enables DMG to consistently produce commercial-free, educational programming that both viewers and networks depend on.
For more information visit: http://www.InnovationsTelevision.com or contact Jake Meiteles at: (866) 496-4065 x 830 or via email at: Jake(at)InnovationsTelevision(dot)com.