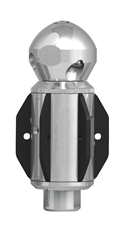 Durango, CO (PRWEB) September 23, 2015
Industry-leading Warthog sewer tools are the recognized choice for municipal, industrial, and commercial drain cleaning applications. The Magnum series of Warthog tools has been engineered to increase productivity with enhanced performance and durability.
Magnum tools feature innovative speed control and seal technology for improved tool life and better operation in the harshest environments. The tools effectively handle recycled water, retaining jet quality under poor water conditions, and their streamlined design allows for better forward and reverse movement through pipe.
Reducing tool maintenance requirements is a central focus of Warthog Magnum engineering. Magnum series tools are proven to handle hundreds of hours of operation before requiring standard maintenance. Hardened steel centralizer fins are individually replaceable as wear occurs, further optimizing the tool for longer field usage.
Unlike tools that utilize chains or spiked propellers to remove buildup, the hard-hitting rotary jets of the WHR Magnum cut and clear material without the risk of damaging pipe. Mike Martin, proprietor of Plumber's Depot in Hawthorne, CA, recounted a line cleaning job where he removed a solid inch of hardened calcium buildup. He stated that with the WHR Magnum, "we are able to cut roots, remove calcium buildup inside of the pipe, and climb distances that we have never been able to do in the past." Mike reports running the WHR Magnum up to 800 feet, pulling the length of hose.
The streamlined Warthog WHR Magnum easily navigates pipes 6 to 18 inches in diameter, is available for 1/2" and 3/4" inlet sizes, and handles pressures up to 8000 psi at up to 50 gallons per minute.
For more information, visit http://www.sewernozzles.com or call 1-970-259-2869/TOLL FREE 1-866-795-1586.