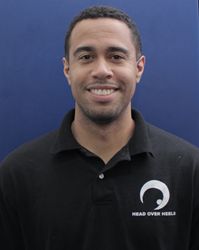 I'm looking forward to seeing the best juniors in the world compete, as they are the future of gymnastics
Emeryville, CA (PRWEB) September 23, 2015
Michael Ashe, the Head Over Heels' boys team program director, was selected by the U.S. Men's Artistic Gymnastics Federation to judge the Japanese Junior International competition (JJI) in Yokohama, Japan on September 22-23.
Ashe is often selected to judge international events and has earned the title of International Brevet Judge, the most elite judging status. To become a brevet level judge, candidates must complete a brevet judging course mandated by the International Gymnastics Federation (FIG). The course is offered once every four years in each participating country. Candidates must also pass an extensive exam. Due to Ashe's high exam score and international experience, he received a "Category 1" rating, the top rating to judge at the Olympic level.
"I am just very thankful and excited to be participating in this event again," Ashe said. "I judged this event back in 2011 and was impressed with the city of Yokohama, as well as the hospitality showed by the host federation. I am also very excited to see how much the junior gymnasts have progressed over the past few years."
The JJI is a biennial event that includes some of the best junior athletes in the world. Many of the participants move onto competing in the World Championships and Olympics. Each invited federation is allowed to bring two female and male athletes. Invited federations include: Armenia, Australia, Belarus, Bulgaria, Brazil, Canada, China, Spain, France, Great Britain, Germany, Hong Kong, Hungary, Italy, Korea, Netherlands, New Zealand, Romania, Russia, Singapore, Switzerland, Ukraine, Venezuela, and the United States. Event and all-around titles will be awarded.
"I'm looking forward to seeing the best juniors in the world compete, as they are the future of gymnastics," Ashe said. "I am also looking forward to reuniting with other judges and coaches from other countries. Through my travels I have befriended many officials and coaches that I see at many of the international events."
While reaching the level of International Brevet Judge is a prestigious honor, Ashe believes that judging has enhanced his coaching ability, as well.
"To truly excel at any athletic discipline, either as an athlete or as a coach, one must have extensive knowledge of the rules," Ashe said. "My knowledge and experience as a judge aids in knowing proper execution of skills, optimizing routine construction for peak performance in competition, and identifying skills that are suitable for specific athletes. Also, by judging athletes of varying skill levels all around the world I become privy to new gymnastic trends and techniques being used."
Ashe also serves as the State Technical Director of the Northern California Boys Gymnastics Association. Ten of his athletes have gone onto collegiate gymnastics, many awarded with scholarships. In 2006, Ashe was honored as the NorCal Coach of the Year. In 2013, Ash was honored by the National Gymnastics Judges Association as the National Judge of the Year.
For more information about any of Head Over Heels Athletics Arts' classes and programs, call 510-655-1265, view the competitive gymnastics programs on the web at http://www.hohathleticarts.com, or visit 4701 Doyle St., Building F, in Emeryville.
About Head Over Heels Athletics Arts:
Head Over Heels Athletics Arts has been helping children gain fitness, gymnastics skills, confidence and self-esteem for more than 20 years. Founded in Oakland in 1977, Head Over Heels Athletics Arts continues to grow and offer new, varied programs with the constant goal of providing the best in kids' gymnastics and fitness. The Head Over Heels Athletics Arts' staff is required to undergo various kinds of training to ensure excellent sports instruction, as well as the safety of child. Children are natural learners and Head Over Heels promotes that positive learning attitude. For some students, a preschool class at Head Over Heels is their first classroom experience.