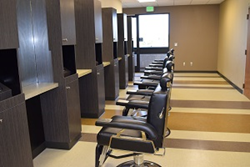 We are always trying to meet the needs of our students
(Upland, CA) (PRWEB) September 24, 2015
Salon Success Academy opened its brand new campus on September 8th in Riverside Salon Success Academy, offering cosmetology and barbering programs.* Like its other four campuses in the Inland Empire area of California, the Salon Success Academy Riverside campus will offer classroom instruction, hands-on training and extensive preparation for the State Board exams. The cosmetology program will teach students everything they need to know about providing high quality hair, skin, and nail services. The barbering program will offer instruction on the latest hair cutting, coloring, and grooming techniques for men.
The new Riverside facility, conveniently located just off the Arlington Avenue exit on the 91 Freeway, includes modern equipment and an onsite salon. Under the supervision of licensed cosmetologists and barbers, students can gain real world experience and begin to cultivate a client base while still in school. They can practice their techniques, hone their skills and work toward creating their own personal style behind the chair.
"We saw that there was a real demand for a quality barbering program in the area and knew we were just the people to meet it," said company president Robert Gross. "The new program and Riverside campus are just more examples of how we are always trying to meet the needs of our students today and into the future."
According to Gross, Riverside will be staffed with the same passionate professionals who are part of the Salon Success Academy family at its schools in Upland, Corona, Fontana and Redlands. He noted that the "people helping" philosophy with which his father founded the company more than a half-century ago is still at the foundation of everything they do.
"We do all we can to help our students succeed and are always thinking about ways to make a great school even better," said Gross.
The brand new campus is located at 6780 Indiana Avenue in Riverside. Those wishing to schedule a campus visit can contact Salon Success Academy at 877 987-4247. For further information about the school and all of its programs and campuses, visit their website.
*Enrolling now. Barbering program is coming soon.